Matt Bomer In, Jessica Lange Out For 'American Horror Story: Hotel'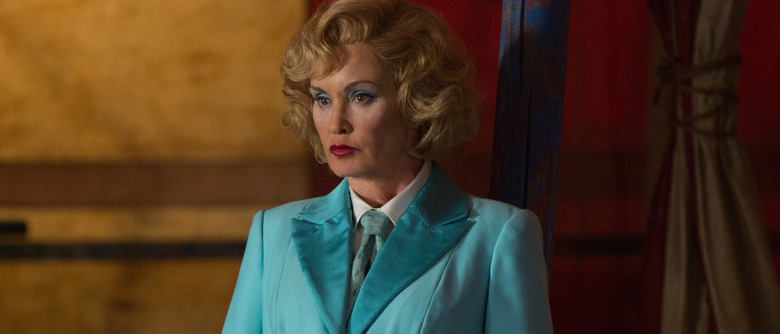 Two more thespians have checked into American Horror Story: Hotel. Matt Bomer and Cheyenne Jackson are set for the upcoming fifth season of the FX anthology series, joining previously cast star Lady Gaga.
That's the good news. The bad news is that Jessica Lange definitely won't be checking in for the new season, after four seasons as the show's MVP. More on the latest American Horror Story Hotel casting after the jump. 
Lange confirmed the unfortunate news during an American Horror Story PaleyFest panel this weekend:
We've had a great run. I have absolutely loved doing these four characters, and in all the madness, I loved the writers, actors, [showrunner / series creator] Ryan [Murphy], the whole insanity of it, the stories, shooting here, shooting in New Orleans, everything. To cut to the chase, yes, I'm done.
Although the show's cast and characters change from season to season, Lange has been a consistent highlight. In four seasons, she's collected two Emmys, a Golden Globe, and a SAG Award for her work on the series. Her exit doesn't come as a surprise, however, as she stated back in 2013 that Freak Show (the fourth and most recent season) would be her last run.
But the show must go on, and so it's pressing forward with Bomer and Jackson. The actors wouldn't say much about their new characters, probably because they don't seem to know much about them. "I can't confirm or deny that there may be a romantic relationship," Bomer said of his character's connection to Gaga's.
Bomer previously stopped by American Horror Story for a single episode last season, and has guest-starred on Murphy's Glee and The New Normal. In addition, he starred in Murphy's HBO movie The Normal Heart. Jackson, an AHS newbie, had a recurring role on the second season of Glee.
Meanwhile, it's still unclear which, if any, of AHS' other regulars will return for Hotel. Sarah Paulson, who like Lange has appeared in all four seasons, is currently busy shooting Murphy's other FX anthology, the upcoming American Crime Story. "My hope is that we can make both shows work out [because] no one has ever survived but Paulson. I can't ruin that streak now," she told Vulture before the panel.
Denis O'Hare, who's been in every season but Asylum, sounded more optimistic. "I don't have [a] 100 percent definitive yes, but I have gotten some strong hints and had some good early conversations," he said. "And I have a pretty good idea of what I would like to do."American Horror Story: Hotel airs on FX this fall.