Watch A Short 'Pixels' Movie Preview: 8-Bit Video Games Invade Earth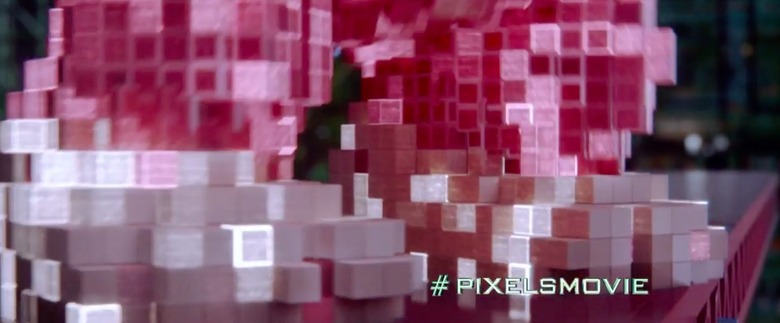 Columbia Pictures has released a ten second teaser trailer for the upcoming Chris Columbus video game sci-fi comedy Pixels. The plot of the movie is about a group of video game experts who are recruited by the military to fight 1980s-era video game characters attacking our planet. Its been pitched as Ghostbusters, but with classic 80's video game creatures instead of ghosts. And yes, we've actually heard a bunch of good buzz for this film. Before the Pixels trailer is released online later this week, watch this short ten second Pixels movie preview, teasing the invasion of 8-Bit video game characters. Watch it now after the jump and leave your thoughts in the comments below
10-Second Pixels Movie Preview
Prepare yourself for an invasion of epic proportions. #PixelsMovie trailer is coming in 2 days.https://t.co/CW6yjsUVTw

— Pixels (@PixelsMovie) March 15, 2015
I'm so happy to see Donkey Kong will have a prominent role — I'm a big fan of that ape! The above comes from the Pixels movie twitter account. The first Pixels teaser trailer will be released in two days: on Tuesday March 17th 2015, so check back for more.
Here is one of the previously released 8-bit world attack Pixels posters: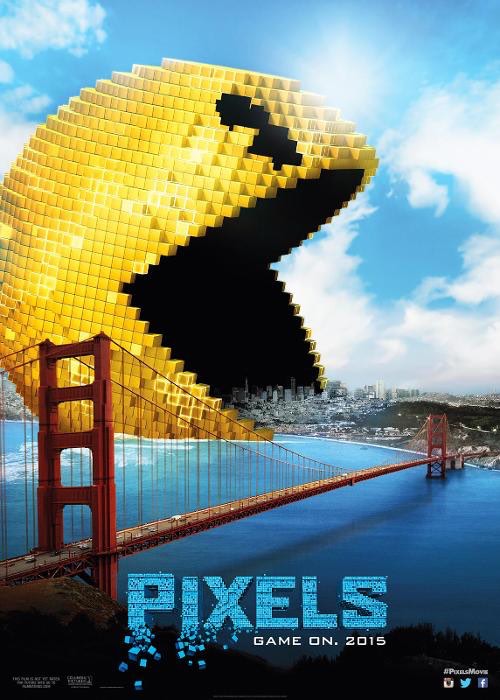 Pixels stars Adam Sandler, Kevin James, Michelle Monaghan, Josh Gad and Peter Dinklage (who looks to be playing a send-up of King of Kong's Billy Mitchell). Official information:
In Pixels, when intergalactic aliens misinterpret video-feeds of classic arcade games as a declaration of war against them, they attack the Earth, using the games as models for their various assaults. President Will Cooper (James) has to call on his childhood best friend, '80s video game champion Sam Brenner (Sandler), now a home theater installer, to lead a team of old-school arcaders (Dinklage and Gad) to defeat the aliens and save the planet. Monaghan plays the team's unique weapons specialist. The action-comedy is directed by Chris Columbus from a story by Tim Herlihy and a screenplay by Tim Herlihy and Timothy Dowling, based on the short film of the same name by Patrick Jean. The film is produced by Adam Sandler, Chris Columbus, Mark Radcliffe, and Allen Covert. Executive Producers are Barry Bernardi, Michael Barnathan, Jack Giarraputo, Heather Parry, Tim Herlihy, Steve Koren, Patrick Jean, Benjamin Darras, Johnny Alves, Matias Boucard, Seth Gordon, and Ben Waisbren.
Pixels will hit theaters on July 24th, 2015.