HBO Wants More 'Game Of Thrones' Seasons, But Not A 'Game Of Thrones' Movie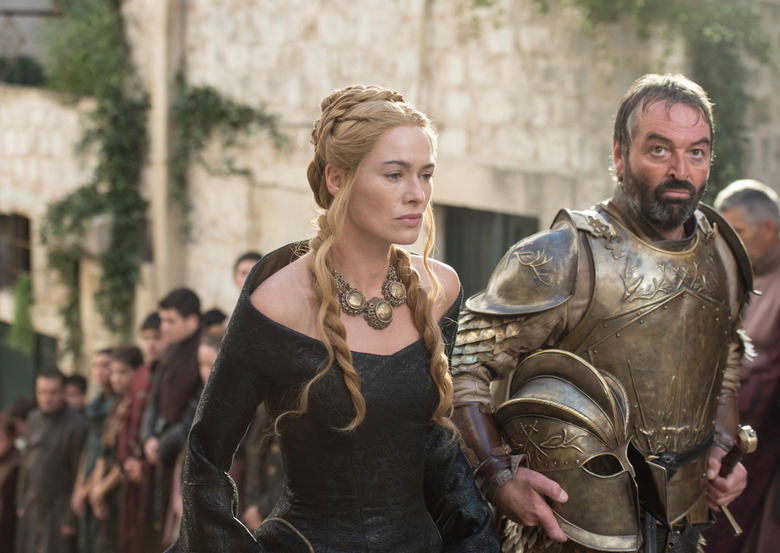 While it's not quite accurate to say we're nearing the end of Game of Thrones, it may be true that we have more episodes behind us than ahead of us. George R.R. Martin's fantasy saga has a definitive ending, even if he hasn't written it down yet, and showrunners David Benioff and David Weiss have previously said they want to wrap up after "seven or eight" seasons.
But of course HBO isn't going to give up its most popular show so easily. Programming president Michael Lombardo admits he'd "love" the show to run for longer, and wants to explore "all possible avenues" to make it happen. All possible avenues, that is, except a Game of Thrones movie. Find out why after the jump. 
At the moment, Game of Thrones looks likely to end after Season 7, or thereabouts. The show has already been renewed through Season 6, and the actors' contracts include an option for Season 7. However, Lombardo told EW he's hoping for more:
This is the hard part of what we do. We started this journey with David and Dan. It's their vision. Would I love the show to go 10 years as both a fan and a network executive? Absolutely.
To that end, Lombardo wants to open up a discussion with Benioff and Weiss. Ultimately, though, he said he will defer to their wishes:
We'll have an honest conversation that explores all possible avenues. If they weren't comfortable going beyond seven seasons, I trust them implicitly and trust that's the right decision—as horrifying as that is to me. What I'm not going to do is have a show continue past where the creators believe where they feel they've finished with the story.
For their part, the showrunners seem wary of extended the series beyond its natural shelf life. Said Benioff: "We know basically how many hours are left in this story. We don't want to add 10 hours to that."
But there are a few ways to lengthen Game of Thrones without going into an eighth or tenth or fifteenth season. One option is a spinoff. Martin has a development deal with the network, and he has plenty of material that's set in the same world but won't make it into the show. (The Dunk and Egg novellas, for example.)
Another, more likely option is that HBO will give Game of Thrones an extended final season to be aired across two years. Think of what AMC did with Mad Men and Breaking Bad — or, going back further, what HBO did with The Sopranos.
Interestingly, the one option that's not on the table, at least for now, is a Game of Thrones movie. Although plenty of people have voiced support for that idea, including Martin himself, Lombardo believes it'd be unfair to subscribers. He explains:
Certainly there have been conversations where it's been said, 'Wouldn't it be cool to do that?' But when you start a series with our subscribers, the promise is that for your HBO fee that we're going to take you to the end of this. I feel that on some level [a movie would be] changing the rules: Now you have to pay $16 to see how your show ends.
HBO isn't against movie sequels in general. Sex and the City spawned two cinematic sequels, and there's an Entourage film hitting theaters later this year. In both cases, though, they were follow-ups that came years later. That's not the same thing as forcing viewers to pay extra for what is essentially a big-budget, feature-length series finale.
But now we're jumping ahead. For now, Weiss says the goal is simply to end the story well. "We want to go out on our absolute highest note," he said. "We don't want people to finally see the end and say, 'Thank god that's over.'"
Game of Thrones Season 5 premieres Sunday, April 12.