Cool Stuff: Han Solo Hoth Sixth Scale Figure From Sideshow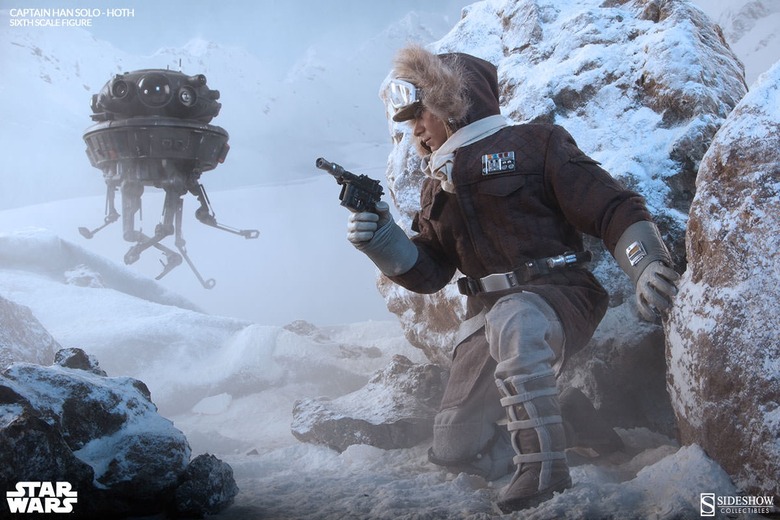 Sideshow Collectibles sent me a sample of the Star Wars Han Solo Hoth Sixth Scale Figure From Sideshow Collectibles. Lets unbox this figure and take a look at whats inside the box. After the jump you will find photos of the Han Solo Hoth Sixth Scale Figure, alongside my thoughts on the product.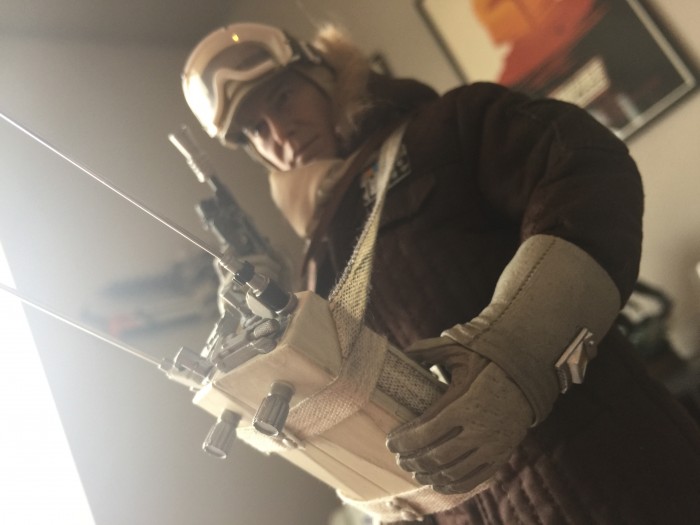 If you want a Han Solo collectible, you're probably after one of three things: a prop replica of Han's blaster, a Han in Carbonite replica (scaled or life-size) or a figure or statue of Captain Han Solo in his Hoth parka.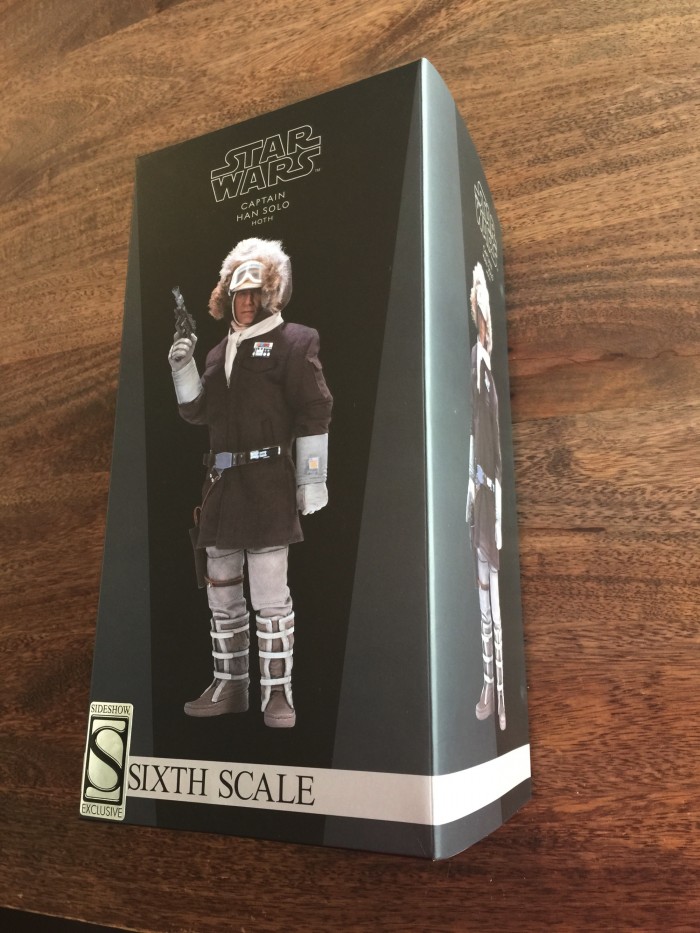 Han Solo Hoth Sixth Scale Figure From Sideshow  Reviewed
This 12 inch figure comes equipped with a bunch of highly detailed wardrobe and scaled props, including the Hooded Brown Parka with rank badge, Cold Weather garments, two scarves, Belt with pistol holster and detachable droid caller, Two part sculpted boots, Binoculars with fabric strap, a Life scanner with both retracted and extended antennae, Han's signature DL-44 Blaster. Everything is super detailed and looks fantastic even at a micro level.
The Sideshow exclusive version of this figure comes with two head sculpts, one with Headgear and goggles and the other without headgear. You also get a number of interchangeable hands, including a Right Trigger Hand, Right C-Grip Hand, Right Large C-Grip, Right Reach Hand, Left Fist, Left C-Grip, Left Large C-Grip, and Left Reach Hand.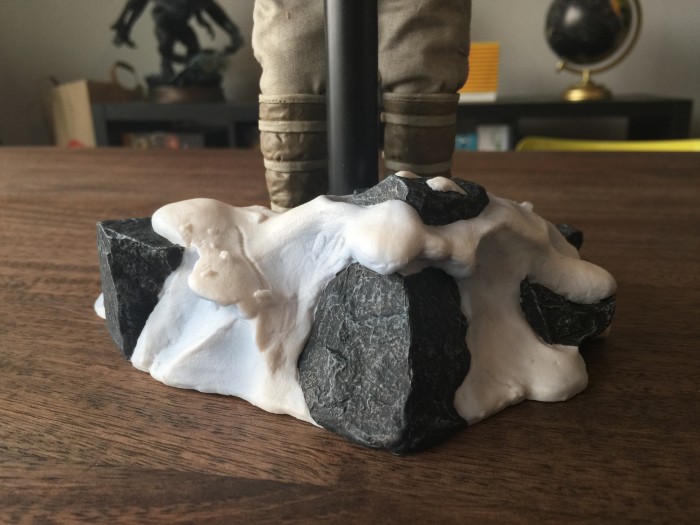 As with most of these sixth scale figures, Hoth Han Solo comes with a Support Base, this one with Sculpted Snow environment Base Hugger which gives a little flavor to the figure's environment. I'm sure if you paired this with the Sideshow Imperial Droid figure it would make a fantastic display.
I'm not so impressed with the head sculpt on this sixth scale figure, especially compared to the hyper realistic recreations we have come use to from Hot Toys. The head sculpt without the hood somehow looks a lot more like Harrison Ford than the hooded version, and I'm sure many fans who buy this figure will end up displaying it with the alternate sculpt even though it doesn't quite fit the Hoth scenario.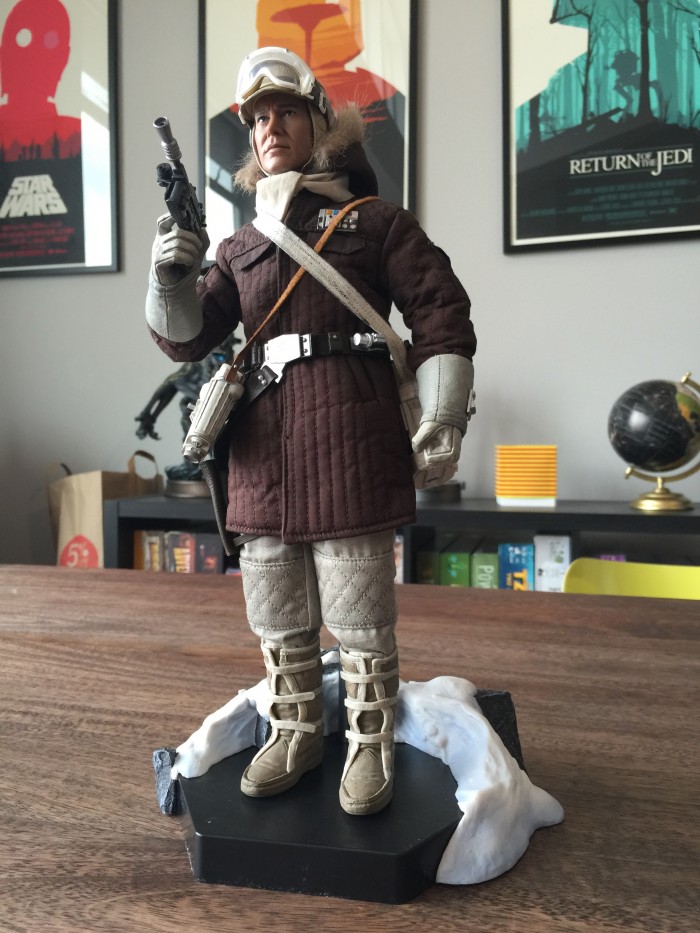 Its also worth noting that Sideshow Collectibles is releasing an alternate version of the figure with Han Solo wearing a Hooded Blue Parka, which different than the wardrobe used in the film, looks more like the jacket as it appears on the screen in Empire Strikes Back. I did not get to see this alternate version in person, but here is a photo: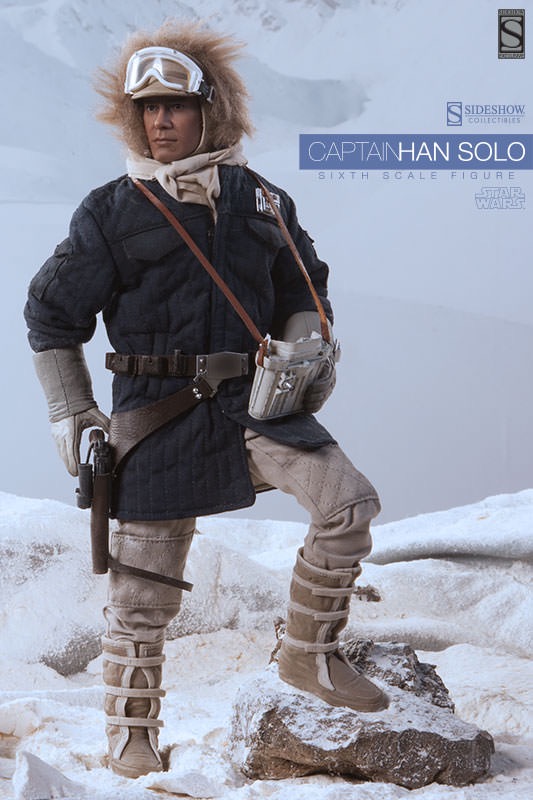 Here is the official product description for the Han Solo Hoth Sixth Scale Figure From Sideshow Collectibles:
From Star Wars Episode V: The Empire Strikes Back, relive your favorite moments leading up to the Battle of Hoth with the Sideshow Collectibles Captain Han Solo – Hoth Sixth Scale Figure. On the run and with a price on his head, the intergalactic smuggler Han Solo joins the Rebel Alliance at their remote secret location on Hoth, Echo Base. Dressed for the planet's notorious sub-zero climate, Solo is fitted in an authentically replicated brown quilted parka, complete with rank insignia and fur-trimmed hood. Two scarves, a cap and goggles frame the lifelike portrait which perfectly captures actor Harrison Ford in the role that made him a star – and for additional display options, swap in the Sideshow Exclusive portrait without headgear, depicting Han as he appears inside the base. Though hiding and freezing on the wretched ice cube doesn't sit well with the smuggler's disposition, when Rebel Commander Luke Skywalker goes missing during a routine patrol, Solo has no choice but to leap onto the back of an ill-fated tauntaun and go out after him. Fully equipped with a blaster pistol, macrobinoculars, droid caller, and portable life scanner, he's willing to risk everything on a rescue mission to find his friend and save the day.
The Han Solo Hoth Sixth Scale Figure is sold in the US by Sideshow Collectibles for $199.99.