'Furious 7' Featurette Reveals Secrets Of The Over The Top Car Drop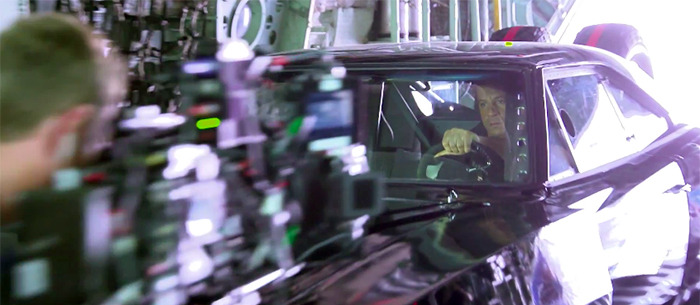 A recent extended clip from Furious 7 showcased the film's setpiece in which the main characters drive cars out of a C-130 military transport plane, deploying parachutes to ease themselves safely to ground. Now a new featurette shows how that Furious 7 car drop was done.
No, Vin Diesel wasn't actually skydiving in a car, but there's still a whole crew grabbing shots of the cars in-air. You'll see skydivers with helmet-mounted cameras falling along with the cars, as a helicopter hovers around them spotting for everyone as camera crews on the ground aim their lenses at the sky to shoot cars as they approach. See the making-of footage below.
It's a mark of achievement in the creation of this sequence that, while watching the final product, we're more invested in hat's going on than thinking about how they did it. And the breakdown of the involved logistics — especially with regards to the unpredictability of the cars as they fall — makes the sequence more impressive.
Furious 7 opens in theaters and IMAX on April 3. Footage via Universal.
Continuing the global exploits in the unstoppable franchise built on speed, Vin Diesel, Paul Walker and Dwayne Johnson lead the returning cast of Fast & Furious 7. James Wan directs this chapter of the hugely successful series that also welcomes back favorites Michelle Rodriguez, Jordana Brewster, Tyrese Gibson, Chris "Ludacris" Bridges, Elsa Pataky and Lucas Black. They are joined by international action stars new to the franchise including Jason Statham, Djimon Hounsou, Tony Jaa, Ronda Rousey and Kurt Russell. Neal H. Moritz, Vin Diesel and Michael Fottrell return to produce the film written by Chris Morgan.