AMC Wanted 'Mad Men' Spinoffs For Peggy And Sally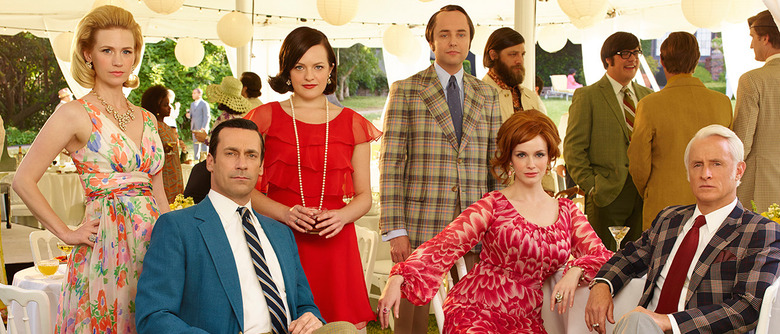 During the final stretch of Breaking Bad, AMC announced plans to stay in Albuquerque with Better Call Saul. And though The Walking Dead is still going strong, AMC is expanding that world with a companion show. So as the end of Mad Men looms, might AMC consider keeping the party going with another new series?
As it turns out, they already have. The network reportedly looked at several possible ideas for a Mad Men spinoff, including one set in the modern day. Find out what other concepts they considered — and why none of them came to fruition — after the jump. 
The reveal about the Mad Men spinoff that never was came in a lengthy THR profile about the series. The possibility came up for debate during the lengthy hiatus between seasons 4 and 5. Series creator/showrunner Matthew Weiner's contract had just expired, and AMC was trying to pressure him into cutting down the cast or shortening the episodes.
It's worth reading the whole article if you're a fan of the show, but here's the relevant quote from Lionsgate TV COO Sandra Stern:
When we first started negotiating with AMC, one of the things they wanted was a spinoff. We talked about doing a contemporary one. Given the fact that [Mad Men] ends nearly 50 years ago, most of the characters would be dead. Sally was the one character young enough that you could see her 30 or 40 years later. There was a time we wanted a Peggy spin­off, too, and, a la Better Call Saul, a minor character going off to L.A. Matt wasn't comfortable committing to a spinoff.
Of those three ideas, the L.A. one might be the most promising. Funnily enough, Mad Men actor Kevin Rahm has proposed a similar concept in the past. "I keep working a spinoff angle," he told press in 2013. "The spinoff is [characters Ted and Pete], The Odd Couple in L.A. but they're both dirty. Two Felixes."
A Peggy spinoff seems kind of pointless, seeing as she's basically the main character of Mad Men. Only Don is more central to the series than she is, and I can't imagine the show ending without a satisfying sendoff for her. A Sally spinoff sounds more interesting, but why make it a contemporary series when one of the greatest pleasures of Mad Men is its period setting?
Based on Stern's comments, it doesn't sound like any of these ideas are still on the table. Nor is there any indication that Weiner has changed his stance. However, it wouldn't be surprising if AMC tried to work some other angle to launch a new Mad Men series. With Breaking Bad already gone and Mad Men nearing the end, the network will be down two flagship dramas.
Meanwhile, it's struggled to replicate its past successes. Rubicon and Low Winter Sun lasted just one low-rated season each, The Killing got cancelled two separate times, neither Turn nor Halt and Catch Fire have caught on and Hell on Wheels (never a huge hit) is out after next year. It's no wonder they've resorted to spinning off Breaking Bad and The Walking Dead.
Do you want to see a Mad Men spinoff, or do you think the show's time is done?