Cool Stuff: Artist Laurent Durieux Presents Jacques Tati's 'Jour De Fete'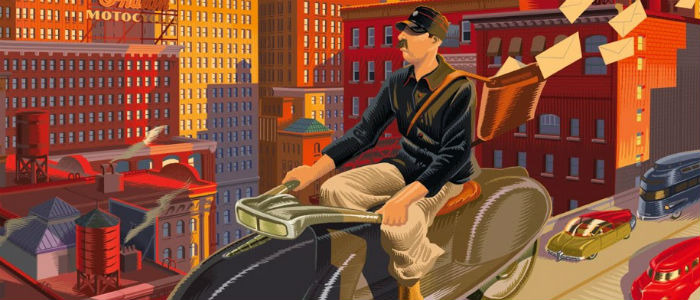 Admittedly, French filmmaker Jacques Tati doesn't get a lot of love on this site. We're always so focused on the future, there's not a lot of time to look into the past. But every once in a while there's a big, bright, beautiful reason to celebrate the history of film and today is one of those days. (If you don't know Tati's work, check out this great Playtime trailer.)
Popular and talented artist Laurent Durieux has teamed up with Nautilus to do a series of prints based on the small but tremendously impactful career of Tati. The first is, predictably, for Tati's first film, Jour de fête. The poster is called François à l'Américaine, it's officially licensed and goes on sale Friday March 13 as a timed edition. See the full image below.
Here's François à l'Américaine, Laurent Durieux's poster for Jour de fête.
First Laurent Durieux Jacques Tati poster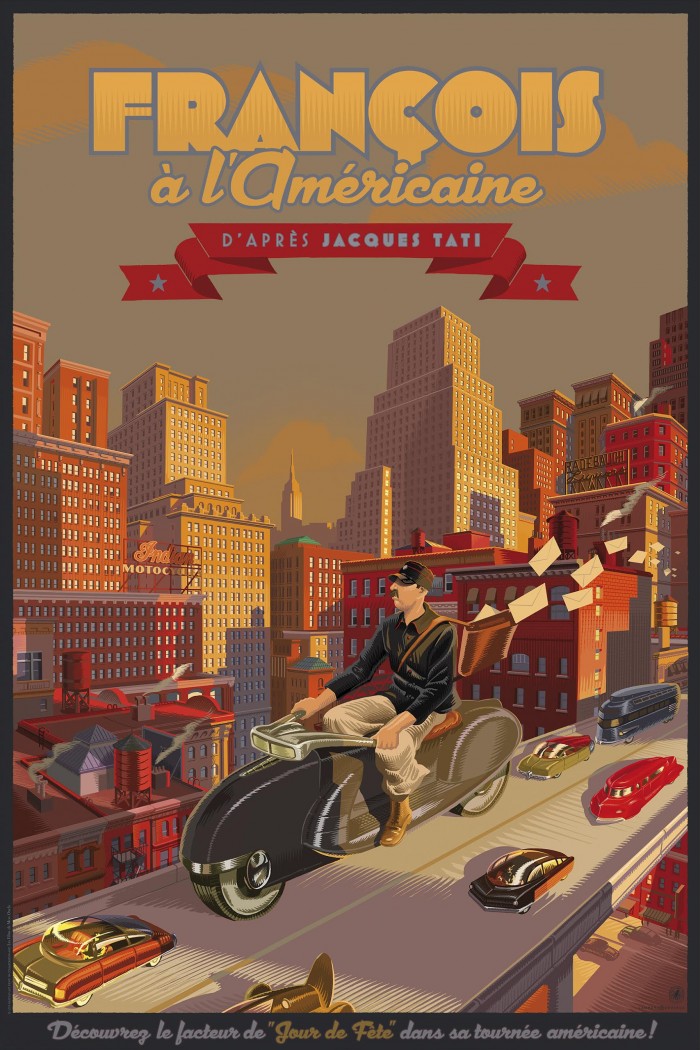 It's a 24 x 36 inch giclee that costs $65. It goes on sale at 11 a.m. PST March 13 and will be on sale for 72 hours. The final edition will be based on how many are sold. You can look for the poster at this link: www.nautilus-artprints.com.
Jour de Fete (which translates to The Big Day) was released in 1949. The original release version was in black and white with some hand-colored scenes, so Durieux's use of color becomes an even more vibrant statement. The film, however, was shot simultaneously in both color and black and white, but the color film used a then-unproven process. That process, called Thomson-Color died out even before the film could be released. But decades later Tati's daughter oversaw a restoration of the color version. Both color and black and white versions are available on the recently-issued Criterion box set.
Here's a tease about the series:
After the end credits of a Jacques Tati film, a meandering journey starts within our imagination. Instantly a style, a language, a form of poetry and characters form within us.
In collaboration with "Les Films de mon Oncle", Nautilus Art Prints is very proud to introduce one of these characters, "the postman François", from Jacques Tati's first movie "Jour de Fête".
"François à l'Américaine" designed by our talented illustrator Laurent Durieux is available exclusively on our website www.nautilus-artprints.com and will be the first in a series of posters celebrating the work of the great Jacques Tati. To be continued...