First Look: 'Maze Runner: The Scorch Trials' Features A Lot Less Maze Running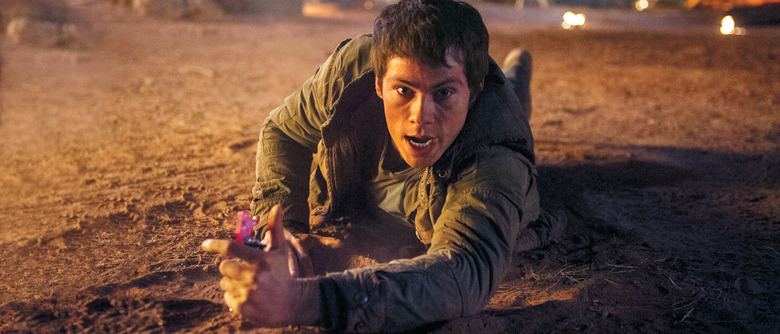 20th Century Fox has revealed the first images from Maze Runner: The Scorch Trials. And to look at them, it seems there's both good and bad news for Thomas (Dylan O'Brien) and his friends played by Kaya Scodelario, Thomas Brodie-Sangster, and Ki Hong Lee.
On the bright side, they're spending a lot less time in mazes nowadays. On the other hand, it looks like they're still on the run. Or rather, they would be if they could. Get your Maze Runner: The Scorch Trials first look after the jump. (Needless to say, but spoilers for The Maze Runner are below.)
EW debuted the Maze Runner: The Scorch Trials first look photos. As you can see, our young heroes will variously find themselves crawling through dirt, strung up by their feet, and toting guns.
Like the first film, the sequel is based on the YA book series by James Dashner. The Scorch Trials picks up right where The Maze Runner left off. Thomas and his crew have finally emerged from the maze, only to discover the outside world is no picnic. Explains producer Wyck Godfrey:
The first movie was the mystery of 'Where are we and what is this place? And can we get out?' But the second movie is about the repercussions of getting out and the discovery of what the world is actually like.
It emerges that the Glade and its surrounding maze were part of a program developed by WCKD in the wake of a catastrophic solar flare. "It has transformed the world into a desert with sand dunes that crawl and are swallowing the ruins of a lost world," said director Wes Ball.
And unfortunately for Thomas and company, these ruins are littered with zombies. Kind of. They're called Cranks. "We don't want to call them zombies, but they fit into that category," said Ball. "They're not undead, but they are rage-filled." Yeesh. Is it too late to just go back to the Glade?
Maze Runner: The Scorch Trials opens September 18. New cast members include Rosa Salazar, Katherine McNamara, Jacob Lofland, Giancarlo Esposito, Aidan Gillen, Lili Taylor, and Barry Pepper.