Secret Cinema To Present 'The Empire Strikes Back'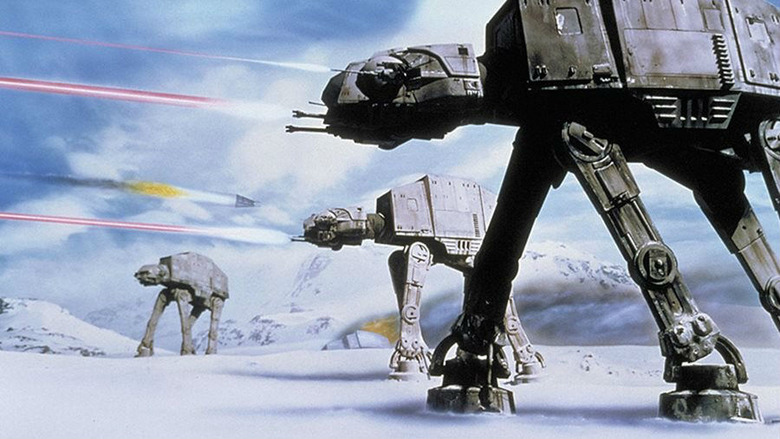 As if Star Wars fans weren't having a good enough year, things just got better. We're already getting a new movie, and all the awesomeness that goes along with that (trailers, toys, discussion, etc.). There's a convention, a great new TV show, multiple comic book series' and so much more. Now, almost like a cherry on top, an ultimate screening of the best Star Wars film ever has been announced.
Secret Cinema has announced that their next film is The Empire Strikes Back and screenings will take place from June 4 until August 2 in London, England. Why is this a big deal? Beacuse this isn't just a screening. The Secret Cinema crew recreates the movie for you to experience, wrapped around actually watching the movie. Get more info about the Secret Cinema Empire Strikes Back screening below.
Secret Cinema announced the screening on their website. However, as it is "secret," they won't say anything except the dates for each show and that tickets go on sale March 18. Click here for that information, or just look at the pretty image: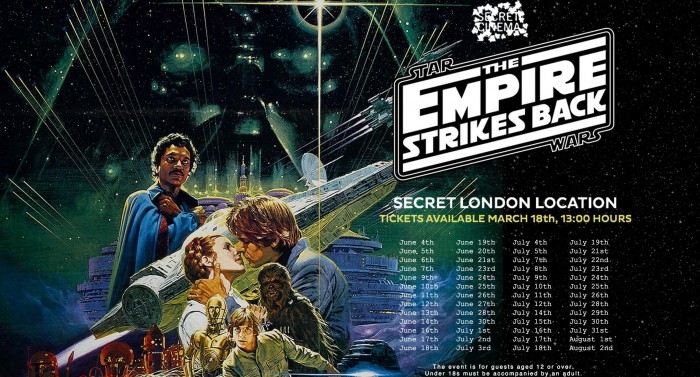 Secret Cinema has been doing this kind of a event for a while, but mostly in Europe. However, they are bringing Back to the Future to Los Angeles later this year to celebrate the 30th anniversary of that film.
For an example of what to expect, check out this video:
So what can we expect for a Secret Cinema Empire Strikes Back screening? Probably Hoth, Dagobah and Cloud City. Those are the three very distinct, primary settings of the film. I imagine there will be one section decked with fake snow, guns and walkers. Another with trees, vines, mist and swamps. Then a third that's very industrial with really good views. You'd also imagine you'll be able to get frozen in carbonite, maybe jump down a huge shaft, hang from an antenna or get a paternity test while chopping your hand off.
Will you be attending the Secret Cinema Empire Strikes Back event? Unrelated, anyone want to pay for my plane ticket to London?