Rumor: Chris Pine Wanted For 'Green Lantern'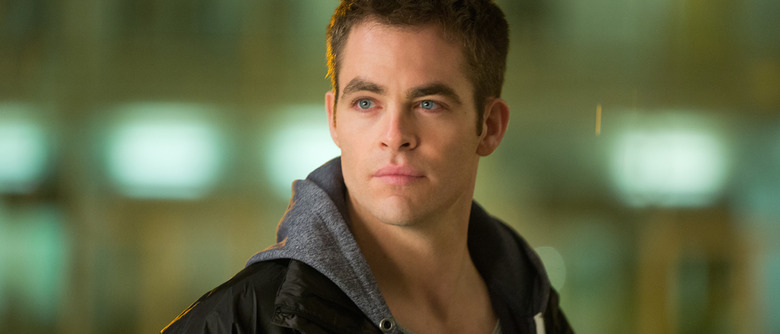 At this point, Chris Pine might be the only blond-haired, blue-eyed, thirtysomething actor named Chris who doesn't have his own superhero franchise. But that might not be the case for much longer. Rumor has it Pine is up for the role of Hal Jordan a.k.a. Green Lantern in Warner Bros.' DC universe. More on the Green Lantern Chris Pine rumor after the jump.
Like so many of the other juicy comic book-related rumors floating around, this one comes from Latino Review. As they note, this is not confirmed and should be taken with a huge grain of salt.
HOT RUMOR! #GREENLANTERN UPDATE! The name I keep hearing & floating around, is Chris Pine for Hal Jordan. Yes, Captain Kirk. Again, this is still just a RUMOR hence UNCONFIRMED. Been hunting this one for a while so the search is still ongoing. How do you guys feel about it, IF again a big IF, it is indeed true? #HalJordan #JUSTICELEAGUE #DC #DCCU #batmanvsuperman #Warners
A photo posted by Umberto Gonzalez (@umbertogonzalez) on
Pine was actually considered when Warner Bros. was casting its 2011 Green Lantern. That role ultimately went to Ryan Reynolds, whom everyone is now relieved to hear isn't expected back for the upcoming slate of DC movies. (Not that you need to feel too bad for Reynolds – he's currently busy working on Fox's Deadpool.) But now that he's out, Pine could have another shot.
As of now, Warner Bros. hasn't offered any hints about who might be the new Green Lantern. The studio hasn't even said whether we'll be getting the Hal Jordan version or the John Stewart version, though both Tyrese Gibson and Common have expressed interest in the latter.
But Warner Bros. can't afford to wait around too much longer. Green Lantern is the last member of the Justice League remaining to be cast. He likely won't appear in 2016's Batman v Superman: Dawn of Justice, but is expected to be part of the two Justice League movies, due out in 2017 and 2019. After that, he'll get his own spinoff in 2020.