Watch: Mark Hamill Reprises His Role As The Trickster In 'The Flash'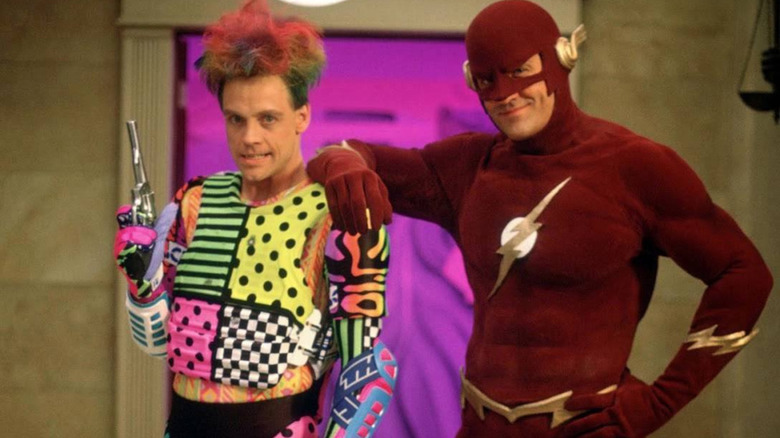 Mark Hamill is crossing over to the dark side. Again. The Star Wars star is reprising his role as DC villain the Trickster for an upcoming episode of The CW's The Flash — more than 20 years after he first played the character in CBS' short-lived The Flash series. Get your first look at the Mark Hamill Trickster after the jump.
The new promo from The CW teases the next three episodes of The Flash.
Barry Allen (Grant Gustin) definitely has his work cut out for him in the next few episodes. We see him facing Captain Cold (Wentworth Miller) and Heatwave (Dominic Purcell) once again, while grappling with new threats like the Weather Wizard (Liam McIntyre), and Cold's kid sister Golden Glider (Peyton List).
But the Trickster could be the most amusing addition to the Flash's rogues gallery. Barry visits Hamill's Trickster in prison to gain some insight into a copycat villain (played by Devon Graye) who's been terrorizing the town. The Flash promo has some meta fun with Hamill's guest role, laughing at the eye-searing costume he used to wear.
Still, Barry isn't losing focus on what's really important: "My mom's killer is still out there." He promises to "travel back in time in the near future," while the promo itself promises these episodes will "change history." Which seems like awful big talk for a TV show, but what do we know?
Hamill's upcoming appearance on The Flash is actually his second time reprising the role since the 1990 series. He also voiced the character in 2006 for the animated series Justice League Unlimited. It's also worth pointing out that Hamill isn't the only veteran from the old The Flash to show up in the new one — Barry's father in this show is played by John Wesley Shipp, who played the Flash in the 1990 show.
The Flash returns March 17. Hamill's episode airs March 31.