Elizabeth Banks And Paul Giamatti To Face Off In "Battle Of The Sexes" Tennis Match For HBO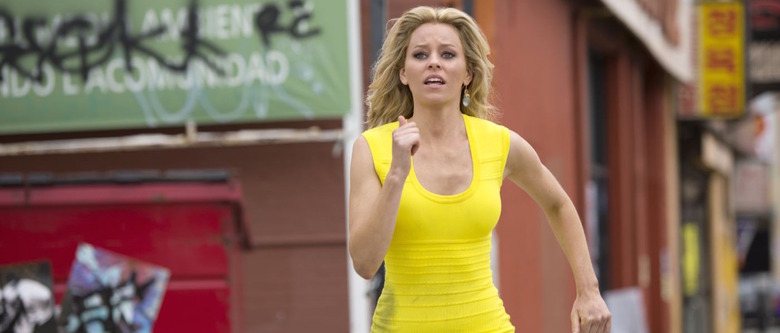 Elizabeth Banks and Paul Giamatti will be going head-to-head on the tennis court. The pair have signed on for HBO Films' untitled project about the 1973 "Battle of the Sexes" match between Billie Jean King and Bobby Riggs.Tom Hanks and Gary Goetzman will produce through Playtone, along with Banks and her Brownstone Productions partner (and husband) Max Handelman. David Auburn (Proof) will write the script. More on the Elizabeth Banks Billie Jean King movie after the jump. Deadline reported the casting. Riggs, at the time a 55-year-old Wimbledon champion in retirement, had just come off of another "Battle of the Sexes" match, in which he defeated Margaret Court. King, then 29 and the no. 2 ranked female star, accepted his challenge.
The match was a huge event in American sports history, with some 50 million tuning in to watch. King emerged victorious from their best-of-five-sets match. The question of whether a woman could compete against a man in athletics was thus settled forever, and nobody ever thought to ask it again.
The Riggs vs. King match has only been dramatized once before, in the 2001 TV movie When Billie Beat Bobby starring Holly Hunter and Ron Silver. For whatever reason, though, the event has been getting a lot of attention as of late.
Will Ferrell has his own feature version of the story brewing titled Match Maker, which will focus on rumors that Riggs threw the match to pay off a mob debt. There was also word last year that Danny Boyle was interested in directing his own take, though that one doesn't seem to have progressed much.
Banks and Giamatti are coming off of another collaboration, the Brian Wilson biopic Love & Mercy. Previously, they starred together in Fred Claus. He'll next be seen in San Andreas and Straight Outta Compton. Her upcoming projects include Pitch Perfect 2 (which she also directed), Magic Mike XXL, and The Hunger Games: Mockingjay – Part 2.