'Journey To Star Wars: The Force Awakens:' 20 Books Will Bridge The Gap Between 'Jedi' And 'The Force Awakens'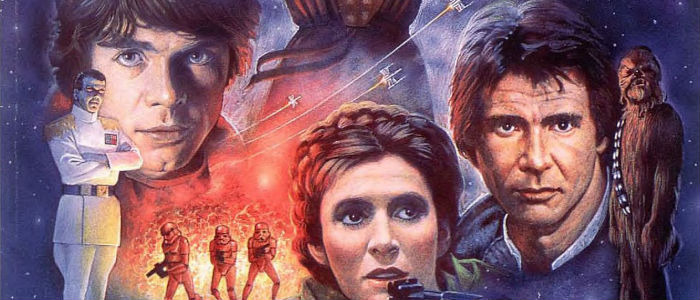 Fans who want to know what happened between Return of the Jedi and The Force Awakens are going to have to read about it. Disney and Lucasfilm just announced this Fall they'll release 20 books in a series called Journey to Star Wars: The Force Awakens. The series will be a mix of novels, comics, children's books and young adult stories all set in the 30 years between the films, and all of which are canon.
Below, read more about Journey to Star Wars: The Force Awakens including a few of the book titles.
Entertainment Weekly broke the news of Journey to Star Wars The Force Awakens. It'll be a joint effort between the many arms of Disney Publishing Worldwide as well as Del Rey, Dorling Kindersley and Marvel Comics. To make sure it all fits together, the authors were in constant contact with the Star Wars story group. Here's what Andrew Sugerman, executive vice president of Disney Publishing Worldwide, said about that:
The partnership with the story group and the editorial team always had to be true to the sanctity of the film while making sure that we find these moments to introduce hints, clues, and puzzle pieces. Without revealing what those pieces are, it will just allow readers to speculate about the new film: What could a location mean, or what could a character mean?
Interesting. So these books will have hints and easter eggs that will pay off in The Force Awakens. That's cool. What are the books? A few titles have been announced:
Star Wars: Aftermath - a novel
Star Wars: Journey to the Force Awakens, a Marvel Comics prequel
A Marvel Comics prequel told from C-3PO's perspective
Star Wars: Ships of the Galaxy, printed by Studio Fun International
Moving Target, a Princess Leia story by Cecil Castellucci
The Weapon of a Jedi, a Luke Skywalker story by Jason Fry
Lost Stars by Claudia Gray
Smuggler's Run, a Han Solo story by Greg Rucka
Also coming out are novels that take place in the time of Star Wars, The Empire Strikes Back and Return of the Jedi, but told from the perspective of side characters. These are not a part of the Journey to the Force Awakens story, but still interesting.
Now I get why Lucasfilm and Disney are doing this and it's incredibly smart. They're looking to sell some merchandise capitalizing on the excitement before the release of the movie plus cover the fact we'll never get to see Mark Hamill, Harrison Ford and Carrie Fisher play their characters in their 30s. These books can easily cover those bases and fill those demands. I know I'll probably pick up one or two in anticipation.
Still, I can't help but feel a little let down that it seems an entire fertile era of Star Wars is only going to be explored in print. Sure there are always stories that can be told – different characters to highlight, side stories – but 20 books is a lot.
What do you think about Journey to Star Wars: The Force Awakens?