'Walking Dead' Spinoff Starts This Summer; Called 'Fear The Walking Dead'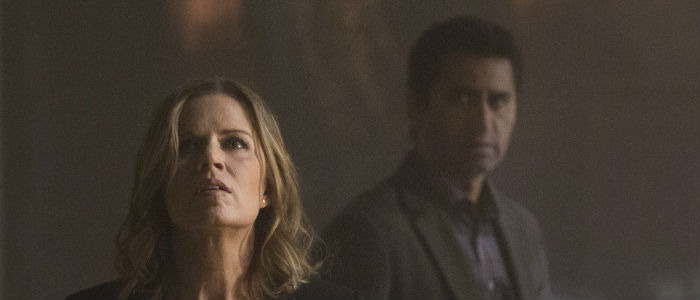 UPDATE: Creator Robert Kirkman has confirmed this show now has a title. it's called Fear The Walking Dead. Below is a story with the first photo from March 7. There's more below.
There's a big gap on The Walking Dead. We never see what happens between Rick's injury and when he wakes up from his coma. How, specifically, did the world get infested by zombies? That story will be told on a previously announced "companion" series to the show, which just received a two-season commitment from AMC. Set in Los Angeles, this new series will start with six episodes later this summer followed by a second season in 2016.
Below, see the first photo from the Walking Dead spinoff and read more about the show.
Here's Kirkman's confirmation of the show's title. Original article follows:
IT'S OFFICIAL! The walking dead companion show on AMC is called FEAR THE WALKING DEAD! Expect more news very soon! #FearTheWalkingDead

— Robert Kirkman (@RobertKirkman) March 27, 2015
Here's the first photo from the show, featuring stars Cliff Curtis and Kim Dickens.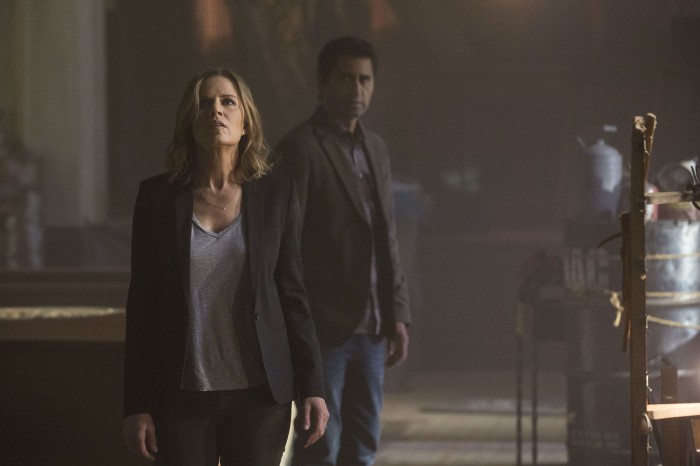 The official press release about the show doesn't offer any real details on the story, but the Hollywood Reporter writes the following about the characters:
Cliff Curtis (Gang Related) stars as Sean Cabrera, a teacher who shares a son with his ex-wife. Sons of Anarchy's Kim Dickens is set to co-star as Nancy, a guidance counselor who works at the school with Sean and is seeing him romantically. Frank Dillane (Harry Potter and the Half-Blood Prince) co-stars as Nancy's son Nick, who has battled a drug problem; and Alycia Debnam Carey (Into the Woods) is set as Nancy's ambitious daughter Ashley, who is the polar opposite of Nick and has dreams of leaving L.A. for Berkeley when the apocalypse strikes.
And here's the full press release on the show, which includes quotes from some of the series' creators.
AMC today announced that it has placed an initial two-season order for a companion series to "The Walking Dead," the #1 show on television among adults 18-49 for going on three seasons.
The new series (title to be announced) will be set in Los Angeles and focused on new characters and storylines. The show's first season will consist of six one-hour episodes and premiere on AMC in late summer. The show's second season will air in 2016.
Robert Kirkman, Gale Anne Hurd, Greg Nicotero and David Alpert from "The Walking Dead" are executive producers of the new series, which, like the original, is being produced by AMC Studios. Dave Erickson ("Marco Polo," "Sons of Anarchy"), who co-created and co-wrote the pilot with Kirkman, is an executive producer and showrunner. The series will star Cliff Curtis ("Missing," "Gang Related"), Kim Dickens (Gone Girl, "Sons of Anarchy"), Frank Dillane (Harry Potter and the Half-Blood Prince) and Alycia Debnam Carey (Into the Storm).
"We take incredibly seriously the notion of building a satisfying companion series to the number one show on television. From the beginning of 'The Walking Dead' on AMC, we've been asked questions about what was going on in other parts of the zombie apocalypse, and what it looked like as the world really did 'turn.' Through this new series, we're going to find out," said Charlie Collier, AMC president. "Robert Kirkman, Dave Erickson and their writing team, along with an incomparable set of producers, cast and crew have created something remarkable and clearly distinct. We respectfully follow the request of Monty Python as we bring out (the latest of) our Dead."
"We feel empowered by this two-season commitment, a serious show of faith from our network partner AMC," Kirkman said. "I personally take it as a sign that they believe, like we do, that we've accomplished our goal of developing something original that can pay tribute to the original show and expand the world I created while at the same time having something new to say with this story. I'm very grateful that we now have the opportunity to tell this amazing story and show the fans that we really haven't scratched the surface yet when it comes to 'The Walking Dead.'"
"This vote of confidence from our partners at AMC is gratifying, to say the least," Erickson said. "We've been blessed with amazing writers and a stellar cast – and we can't wait to build this apocalyptic drama over the next two seasons and hopefully beyond."
In addition, AMC Global, the international AMC-branded television network, announced it has acquired the international television rights to the series, which it plans to air within 24 hours of the U.S. premiere. AMC Global launched in late 2014 and is available in over 115 countries and territories throughout Latin America, Europe, Asia, Africa and the Middle East.