Disneyland's Innoventions Closing, Could 'Star Wars' Be On The Way?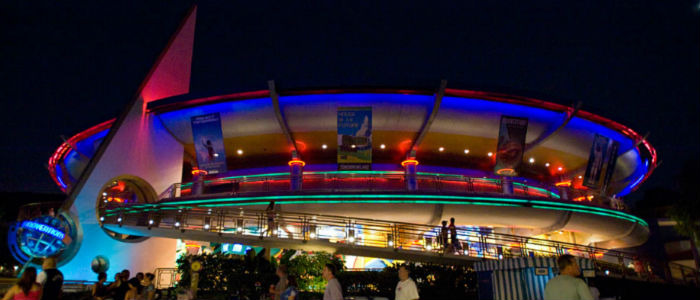 Tomorrowland, the futuristic section of Disneyland, is about to lose one of its largest attractions and that raises questions about what's coming next. The interactive exhibit called Innoventions, one of the biggest spaces in the area, is closing March 31, according to a local newspaper. This is a sudden, yet expected closure that's raising speculation about whether or not it is the first step to the inevitable Star Wars presence in the park. Another possibility for the Innoventions space is a tie-in to Brad Bird's Tomorrowland, which opens some two months later. Or maybe it's not a movie tie-in at all. Read more about Innoventions closing below.
The Orange Country Register (via JediNews) posted about the Innoventions closing. They got this vague statement from a Disney spokesman:
As part of our continuing efforts to offer our guests new magic, we regularly make modifications and enhancements throughout the Disneyland Resort. We have nothing further to announce at this time.
Rumors have swirled that Tomorrowland, which already has the Star Wars themed ride Star Tours, could become a new Star Wars themed section of the park. However, those rumors were since replaced by rumors speculating Star Wars would instead invade Toontown, which is a whole other section. Plus nothing major has been announced and you'd expect an announcement before work begins. So it's possible, but not probable.
What about the film which borrows the area's name, Tomorrowland, which opens May 22? That's an interesting guess but a closing on March 31 wouldn't leave a lot of time to put a new exhibit in the space with sufficient time to promote the film. Plus, there's the film's secretive nature, and speculation that a Tomorrowland tease goes into the Captain Eo Theater next door.
Then there's Marvel. Marvel is currently the main draw into Innoventions, with exhibits centered around Iron Man, Thor and Captain America. There's a possibility they could incorporate more Marvel stuff into that area because of previous success, but at this point, that's nothing more than a wild guess.
Innoventions is a very large piece of real estate in one of the park's most popular areas. And very few people go inside it. While there's a good chance this new closing is only for something minor, eventually, the park will make a major change there.
Are you surprised Innoventions is closing? Do you think it'll be permanent?