'Veep' Season 4 Trailer: Selina Is Like A Real-Life Mariah Carey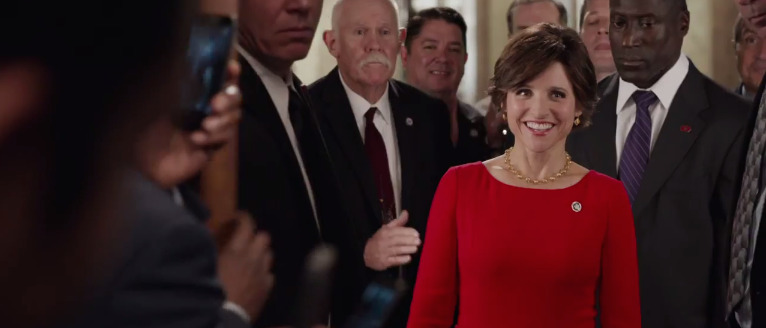 The more things change, eh? Season 3 of Veep ended with a major step forward for Selina Meyer (Julia Louis-Dreyfus), as the president's resignation put her in the Oval Office. And the Season 4 trailer begins with her reveling in her new position of power — she's like "a real-life Mariah Carey," in the immortal words of Mike (Matt Walsh).
But it's not long before she finds herself drowning in the same old bullshit: incompetent staff members, petty rivalries, broken equipment, and her own delusions of grandeur. Watch the Veep Season 4 trailer after the jump. 
HBO debuted the Veep Season 4 trailer on YouTube.
Veep took a bit of a risk by pushing Selina up the ladder, but this trailer makes the new season look very promising. The job change opens up a whole new side of Veep's DC without losing sight of the characters we've grown to love. (Or love to hate, Jonah).
The show still goes by Veep, presumably for branding purposes, but I like to think it also represents Selina's inner Veep-dom. There's a part of her that'll always feel like she deserves better, especially once she realizes that being the leader of the free world isn't all it's cracked up to be.
Elsewhere, Gary (Tony Hale) is still feeling severely underappreciated despite being Selina's "calendar, Google, and Wilson the volleyball"; Amy (Anna Chlumsky) looks even more tightly wound than usual, and Kent (Gary Cole) and Ben (Kevin Dunn) continue to snipe at each other.
Besides our old favorites, the promo also teases the return of hotshot campaign manager Bill Ericsson (Diedrich Bader), as well as newly minted series regular Richard (Sam Richardson). (The latter damn near manages to walk away with the whole trailer, despite saying only one word.) Plus there's our first look at Hugh Laurie, who's set for a mysterious multi-episode role.
Veep returns Sunday, April 12 at 10:30 PM. Honestly, don't even bother making other plans that night — Veep is preceded by the season premieres of Silicon Valley (10 PM) and Game of Thrones (9 PM).