'HAPPYish' Trailer: Steve Coogan Gives Thomas Jefferson The Finger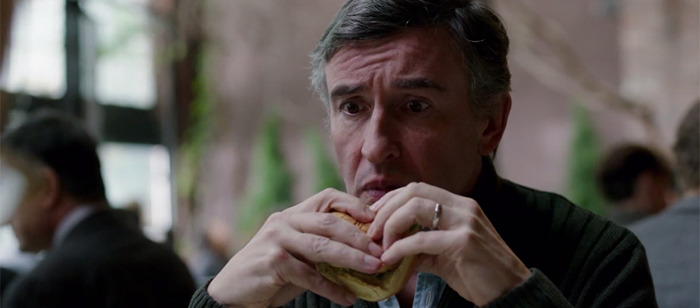 The first teaser for HAPPYish, the new Showtime series starring Steve Coogan, was just OK. It introduced a middle-aged guy who is struggling to deal with his family and changing social structures around him and, maybe, not having such a great time with all of it. This new HAPPYish trailer is infinitely more entertaining. It indicates a lot more of the show's moment to moment comedy, and reveals more variety in Coogan's performance. This is the one to check out, and you can do so after the break.
The Frank Miller, "pursuit of happiness" and "f*ck you, Thomas Jefferson!" jokes are fun, but there's a lot of good energy here. A few things fall a bit flat ("oh, right, well, unfriend me") but I get the sense that some of them are meant to, in the context of their actual scenes.
The series premiere of HAPPYish, starring Steve Coogan, Kathryn Hahn and Bradley Whitford, is set for Sunday, April 26 on Showtime. Trailer via Showtime.
Thom Payne is a 44 year-old man whose world is thrown into disarray when his 25 year-old "wunderkind" boss arrives, saying things like "digital," "social" and "viral." Is he in need of a "rebranding," or does he just have a "low joy ceiling?" Maybe pursuing happiness is a fool's errand? Maybe, after 44 years on this ludicrous planet, settling for happyish is the best one can expect.