Neill Blomkamp Has A New Idea For 'District 10,' But Now Isn't The Time To Do It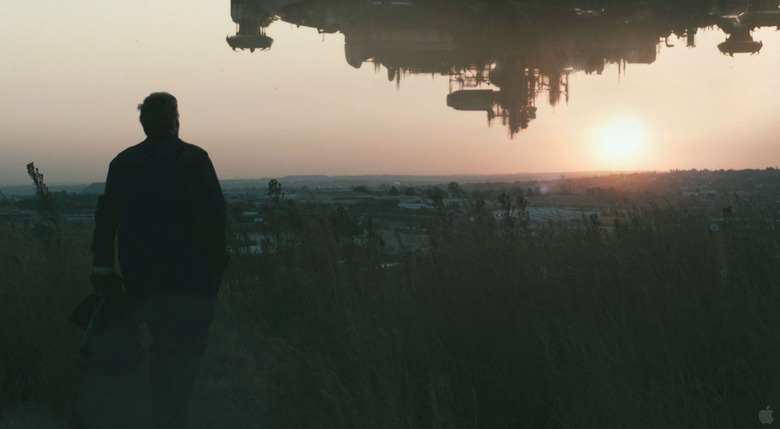 Neill Blomkamp's District 9 was a milestone. A refreshing blend of faux-documentary style with blockbuster effects telling a story of substance and originality. It marked the arrival of a filmmaker who demanded to be noticed. He followed it up with Elysium, a visually gorgeous film filled with great ideas that never reaches its potential. Now he's got Chappie, another great sci-fi idea that squanders its premise. How that film will do is anyone's guess, but if I was a betting man, I'd say Blomkamp's next movie – a new Alien film – had better be a hit or he's going straight into director jail.
If either Chappie or Alien are big hits Blomkamp still wants to make a sequel to District 9, a project regularly but not officially referred to as District 10. In fact, he even has a new idea for the sequel, but feels like he couldn't do it justice until he gets away from his aesthetic for a while. Read the Neill Blomkamp District 10 quotes below.
Blomkamp spoke to IGN about District 10 and why he doesn't think now is the right time to do it:
I have an idea for District 10, which is really cool. The problem is I feel like Chappie is the end of three films that have a similar stylistic approach to them. Chappie is the odd one out in that is has no socio-political underpinnings. It doesn't have my experiences as a kid in South Africa incorporated into it. And Elysium– although it doesn't have my experiences as a kid in South Africa, it has the same notion of oppressor in the elites, and the large population base beneath it. And Chappie doesn't, but they are still part of a trilogy. So moving forward I would love to realize this idea of District 10 – I have every intention to do it, I just need to find the right time to do it – to not go back to Johannesburg and shoot something similar, yet.
I respect the fact the director knows he's done three movies with similar visual aesthetics and wants to get away from that. Hopefully, he'll get to do that with a new Alien movie. And the time away will probably make coming back to his world, that story, that much more fulfilling. For example, the director admits despite the cliffhanger ending, he never thought District 9 could have a sequel. Not immediately at least:
It was a completely self-contained story about the Nazi becoming the Holocaust victim, basically. It was the oppressor becoming the oppressed. And when it's based on a character like that, it ends on that character. The inadvertent world creation that came with it, which to me is my perfect kind of thing that I love – having a bunch of weird alien weapons in the back of a shack that you can discover – that's just ripe for creative insanity, so it took a few years to process what that could be. And I think that the story that I have now is what I would want to see as a fan of the first film, I think. I know I would want to see it – I assume other people would. It's good man!
There's no doubt Blomkamp's idea – whatever it is –  is good. He's made three movies with great ideas. It's the execution that's the issue.
Do you want to see a District 10? Where would the story go?