VIDEO: Adam Sandler And Bob Barker Renew 'Happy Gilmore' Rivalry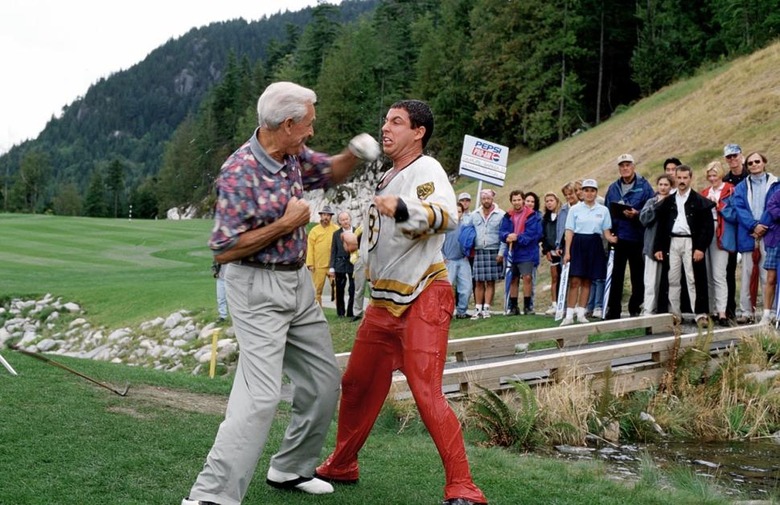 Adam Sandler and Bob Barker's fight in the 1996 comedy Happy Gilmore is one of the most memorable movies scenes of that decade. It's crazy, out of the box and completely hilarious. Even people who don't like the early Sandler film can appreciate the entertainment value in seeing the long time game show host kicking the crap out of Sandler. Maybe even more so.
Now, almost twenty years later, the duo are at it again. Barker and Sandler did a video to promote autism awareness for Comedy Central's Night of Too Many Stars event, which airs Sunday night. Once again though, things got out of hand. It's pretty funny. Check out the 2015 Happy Gilmore fight below.
Thanks to Comedy Central for the video.
Video: Comedy Central's 2015 Happy Gilmore fight
Tyler Spindel directed the funny clip, which will air as part of the Night of Too Many Stars which airs at 8 p.m. March 8 Here's the full breakdown of that event:
Night of Too Many Stars: America Comes Together for Autism Programs is hosted by Jon Stewart and raises money with NYCA (New York Collaborates for Autism) to support programs covering everything from the intensive education kids with autism need at a young age to social training for adults who want to contribute in the workplace. We've even created a "Teach the Teachers" program that helps train more teachers to work in the public school systems, for the many kids with autism who can't get into the few quality schools that can help them. Many organizations support biomedical research to study autism. Night of Too Many Stars is working to help people who live with autism now.
Our deepest thanks to Comedy Central and to the incredible performers who supported this cause at Night of Too Many Stars, including Bill Burr, Bob Barker, Guy Bennett, Jon Bon Jovi, Eddie Brill, Steve Buscemi, Louis C.K., Steve Carell, Vincent D'Onofrio, Will Forte, Jim Gaffigan, Joel Godard, Gilbert Gottfried, Bill Nye, John Oliver, Ray Chew Live, Chris Rock, Al Roker, Paul Rudd, Maya Rudolph, Adam Sandler, Amy Schumer, Sarah Silverman, Jon Stewart and "Weird Al" Yankovic.