'Big Game' Trailer: President Samuel L. Jackson Crash-Lands In Finland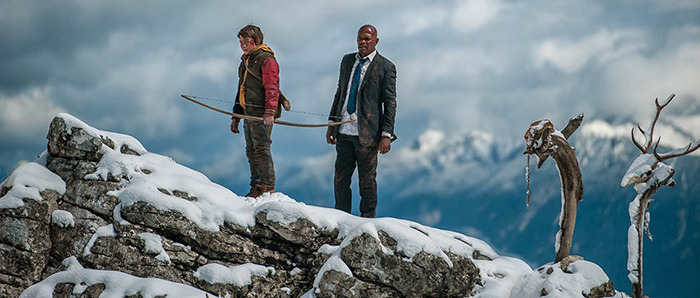 Does Samuel L. Jackson ever not have people trying to kill him? In Big Game, he plays the President of the United States, whose plane goes down over Finnish countryside. Things take a turn from bad to worse when he realizes he's being chased by a group of baddies who'll stop at nothing to capture him. And here you thought Director of S.H.I.E.L.D. was a dangerous job.
This POTUS does have one spot of good luck, though, which is that he's happened to crash-land in front of a 13-year-old hunter played by Onni Tommila. This kid knows his way around the forest, and apparently develops a touching loyalty toward this frazzled world leader. Watch the Big Game trailer after the jump.
Yahoo debuted the new Big Game trailer.
Big Game calls back to so many other films. It's basically the movie Hanna (of Hanna) might have dreamt up if she'd grown up on a steady diet of '80s and '90s action films like Die Hard, Cliffhanger, and Escape From New York. It's goofy, but in a way that looks immensely entertaining.Big Game hits theaters and VOD June 26. Ray Stevenson, Jim Broadbent, Ted Levine, Felicity Huffman, and Victor Garber also star. Jalmari Helander (Rare Exports) directed.
In the rugged countryside of Finland, a young thirteen-year-old (Onni Tommila) embarks on a traditional quest to prove himself by spending 24 hours alone in the wild, armed with only a bow and arrow. After witnessing a spectacular crash, he discovers the escape pod from Air Force One, containing the President of the United States (Samuel L. Jackson). When they realize a group of kidnappers is hot on their trail with the intention of taking the president, this unlikely duo must escape their hunters as they search for the American Special Forces team sent out to find them.