Steve Martin Joins Ang Lee's 'Billy Lynn's Long Halftime Walk'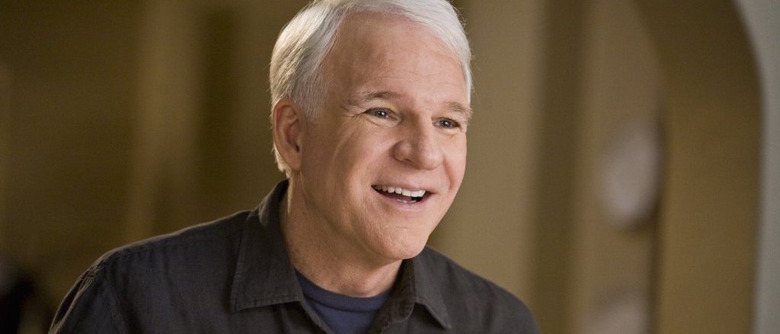 Steve Martin will follow up his extraterrestrial landing in Home with a very different movie about a very different journey. He's just signed on for Billy Lynn's Long Halftime Walk, Ang Lee's upcoming Iraq War drama.
Also set to star are Garrett Hedlund, and newcomer Joe Alwyn as the titular Billy Lynn. More on the Steve Martin Billy Lynn casting after the jump.
Billy Lynn's Halftime Walk is scripted by Simon Beaufoy, the Oscar-winning scribe behind Slumdog Millionaire, and based on the novel by Ben Fountain. The dark satire follows 19-year-old private Billy Lynn, who along with the rest of Bravo Company survives a harrowing battle in Iraq.
They're brought back to the U.S. for a promotional victory tour, which culminates in a spectacular halftime appearance at a Thanksgiving Day football game in Texas. Meanwhile, the soldiers themselves feel conflicted about the goings-on, as they're facing an imminent return to war.
Nearly the entire film will take place on the day of the game, with flashbacks to earlier events. To give you a sense of the tone, Fountain's novel has been described as the Catch-22 or the Slaughterhouse Five of the Iraq War.
According to TheWrap, Hedlund is circling the role of Billy's tough-as-nails drill sergeant. Martin's role is being kept under wraps for now, but the trade speculates he'll play Albert, a Hollywood producer who wants to make a movie about Billy's wartime experiences.
Martin will be heard later this year in Home, a DreamWorks Animation adventure about aliens landing on Earth, but he hasn't been seen on the big screen since the 2011 bird-watching comedy The Big Year.
Hedlund is coming off of another military role, in Angelina Jolie's Unbroken. He'll next appear in Joe Wright's Peter Pan retelling Pan, due out this summer, and William Monahan's thriller Mojave, which has yet to book a release date.
Billy Lynn's Long Halftime Walk begins shooting in April.