Drew Goddard To Write And Direct New 'Spider-Man'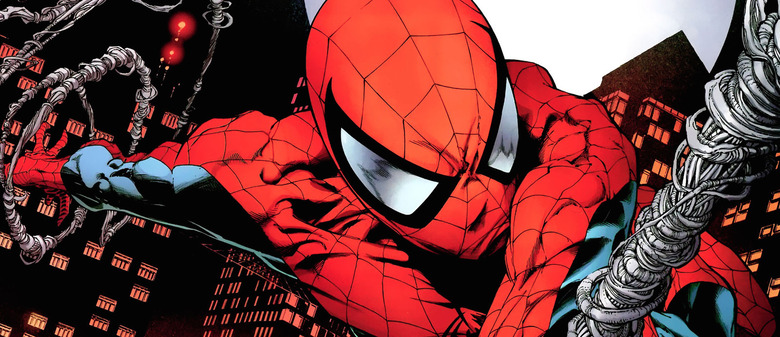 Sony and Marvel have found their man to take on the new feature film version of the Web Slinger. Drew Goddard has reportedly been chosen to write and direct the new Spider-Man film, set for release in 2017.
Goddard, best known for co-writing and directing The Cabin in the Woods, was previously attached to the Daredevil TV show before leaving that to focus on Sinister Six, a Spider-Man spin-off project that is now dead. Read more of the Drew Goddard Spiderman details below.
UPDATE: A representative for Drew Goddard denied these claims, however that most likely doesn't change things.
According to the report, which originated at Latino Review, Goddard's film will share some DNA with the movie he was doing. It'll feature a high school aged Spider-Man, already comfortable in the hero role, dealing with the formation of the Sinister Six. All of the other Sony Spider-Man films (centered on Aunt May, Black Cat, and so forth) are reportedly dead.
The site also believes this film, which will be released July 28, 2017, will be called The Spectacular Spider-Man to differentiate it from the other two trilogies, and with the title drawn from Marvel's second major Spider-Man comic book sires. The report says the film will feature an unknown in the role, with the aim that the character can get a few movies in his young, high school years. Then maybe even more after that.
Another note is the first film will reportedly go the Captain America: Civil War route and feature Spider-Man fighting Iron Man and auditioning for The Avengers.
We're still waiting on a confirmation from Sony or Marvel on Goddard's appointment but Latino Review is a reputable source and The Wrap confirmed the story. Also, bringing Goddard on is incredibly logical. He's a filmmaker that both Marvel and Sony like, he's someone the fans can get behind, and he's already been working on the world of Spider-Man for the past several months. He's pretty much perfect
Now the question becomes, how will Spider-Man be introduced in the Marvel Cinematic Universe? Will it be that aforementioned Iron Man scene? Will it still be in Captain America: Civil War? And will all of the Sinister Six cast members be recast? There's still lots of questions but at least now we know who has the answers: Drew Goddard.
UPDATE: Comic Book Resources heard back from a representative of Drew Goddard and was told the director "hasn't met on the title yet." That may very well be true, but to me that sounds more like a reaction to news being released they didn't expect. It also doesn't mean he won't be doing it, especially since two trade publications have run the story. Still, in the interest of objectivity, we figured it was worth noting.
Also, Deadline is now reporting that Goddard is "meeting" to write and direct. So maybe he hasn't met yet, but will, and will direct the movie. Lock it in.