'Magnificent Seven' Reunites 'Training Day' Stars Ethan Hawke And Denzel Washington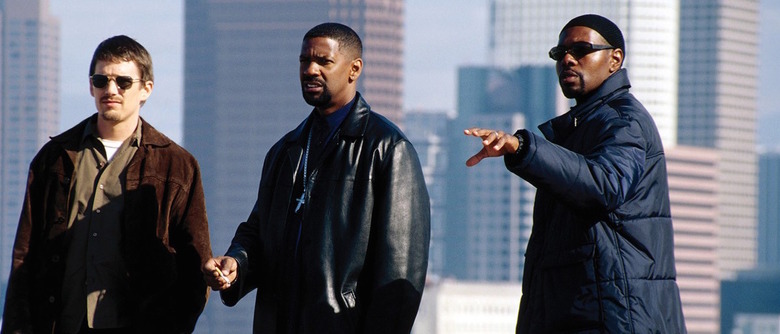 The Magnificent Seven remake is also going to be a Training Day reunion. Ethan Hawke has just joined his Training Day director Antoine Fuqua and co-star Denzel Washington on the project, which also stars Chris Pratt and Haley Bennett. More details on the Magnificent Seven Ethan Hawke casting after the jump.
Variety reports Hawke is in final negotiations for the MGM project. The Magnificent Seven is based on John Sturges' 1960 film starring Yul Brynner and Steve McQueen, which itself was a remake of Akira Kurosawa's 1954 film The Seven Samurai. True Detective creator Nic Pizzolatto wrote the new script, with rewrites by The Blind Side writer-director John Lee Hancock.
Set shortly after the Civil War, the upcoming Magnificent Seven unfolds in a small town being taken over by a gold mining baron and his thugs. After her husband is murdered, Bennett's character hires a bounty hunter (Washington) to get rid of the bad guys. He, in turn, rounds up six more gunmen to help. Assuming Hawke and Pratt are both playing good guys, that leaves four more gunslingers to go.
Hawke, Washington, and Fuqua's 2001 team-up Training Day also unfolded in the wild west, if not the Wild West — it followed two LAPD officers on the mean streets of LA. It turned out to be a big hit, earning a solid $100 million at the box office and leading to a Best Supporting Actor Oscar nomination for Hawke and a Best Actor Oscar win for Washington. No surprise MGM wants a bit of that magic.
Hawke is now fresh off of his second acting Oscar nomination (and fourth overall) for Boyhood. He's just wrapped the Chet Baker biopic Born to Be Blue as well as the Alejandro Amenábar thriller Regression, and has several more films due out in the near future including Andrew Niccol's Good Kill.