First Look: Vincent D'Onofrio As Kingpin In Netflix's Daredevil'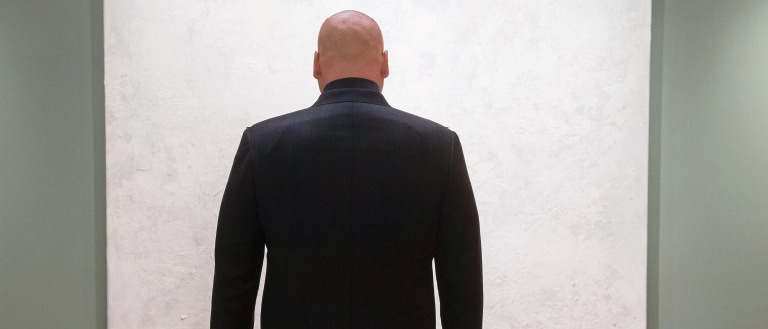 Hell's Kitchen's most notorious crime lord has finally been revealed. Netflix has unveiled the first look at Daredevil's villain, Wilson Fisk, a.k.a. the Kingpin, as played by Vincent D'Onofrio. Get your Daredevil Kingpin first look after the jump. 
We've seen bits of the Kingpin before — he makes a brief appearance in the trailer, and we've seen the back of his head in earlier stills — but this is our first official glimpse of his face. Turns out he looks a lot like Vincent D'Onofrio without hair.
He's not quite as gargantuan as his comic-book counterpart — or for that matter his live-action predecessor, Michael Clarke Duncan in 2003's Daredevil. But this Kingpin sounds just as dangerous. Here's how Netflix describes the character:
The shadowy figure behind organized crime in Hell's Kitchen, Wilson Fisk has one mission in mind: to save Hell's Kitchen by any means necessary, no matter the cost. This immediately puts him at odds with Matt Murdock's vigilante alter-ego, who also seeks to protect the city – but sees the criminal element as the root of the city's problems. Central to this conflict is that Fisk truly believes he's doing good for Hell's Kitchen and at times may seem more of a hero to its people than Daredevil. Intelligent, complex and physically imposing, Wilson Fisk is the perfect foil for Matt Murdock, and the two will collide dramatically in Marvel's Daredevil.
Marvel isn't always known for delivering complex villains, but the Kingpin sounds like an interesting change of pace. The fact that Wilson genuinely sees himself as a hero could make him an even bigger threat to Matt Murdock (Charlie Cox), since there's more at stake in their battle than simple greed or vengeance.
Daredevil hits Netflix April 10 at 12:01 AM Pacific Time. Rosario Dawson, Elden Henson, and Deborah Ann Woll also star.