'Minority Report' Casting: Meagan Good And Stark Sands Take Leads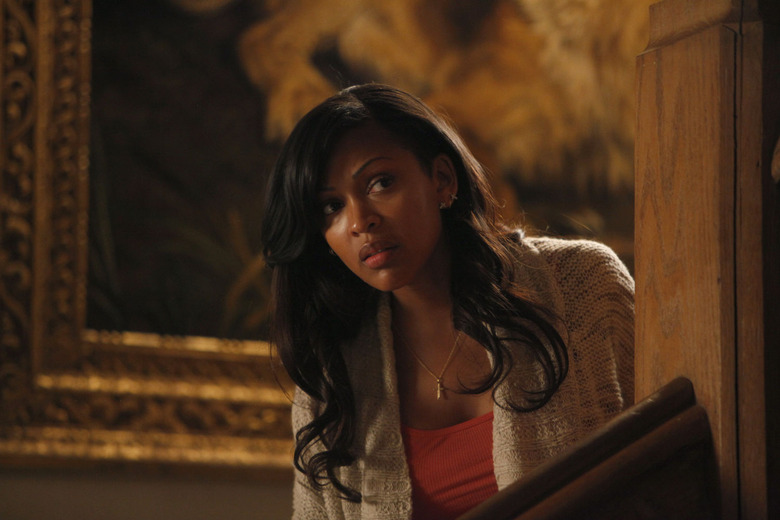 Fox's Minority Report TV pilot has been busy over the past week, picking up three Precogs and a non-Precog lead. Laura Regan and Stark Sands (the latter in a dual role) will play the three clairvoyants, while Meagan Good plays a regular old human who gets involved with them.
The trio join Li Jun Li, who plays a CSI technician, and Daniel London, who reprises the role of Wally the Caretaker from the 2002 movie. More on the Minority Report casting after the jump. 
Minority Report the TV show picks up 10 years after the end of Minority Report the movie. Precog Dash (Sands), attempts to lead a "normal" human life, but remains haunted by visions of the future. Then he meets Lara Vega (Good), a detective haunted by her past, who helps Dash find a purpose for his gift.
Sands will additionally play Arthur, Dash's twin brother and a Precog himself. Regan rounds out the gang as the third Precog, a deeply compassionate woman named Agatha. That role was played by Samantha Morton in the original movie, but Morton declined to return.
Sands might best be known as Troy Nelson, the folk-singing soldier from Inside Llewyn Davis. His other credits include HBO's Generation Kill and Flags of Our Fathers. Regan is just coming off of the final chapter of the Atlas Shrugged trilogy.
Good's last major TV gig was Deception, a short-lived NBC drama. She's also been seen recently in Anchorman 2: The Legend Continues and Think Like a Man Too. Should all go well for her, she'll be on our TVs a lot in the future — she also has a recurring role on Craig Robinson's upcoming NBC sitcom Mr. Robinson.
Mark Mylod (Shameless) will direct the Minority Report pilot from a script by Max Borenstein (Godzilla). Kevin Falls will serve as showrunner. Both Borenstein and Falls are executive producers, along with Amblin TV's Darryl Frank and Justin Falvey.