'The Riot Club' Trailer: Pretty Rich Boys Do Pretty Bad Things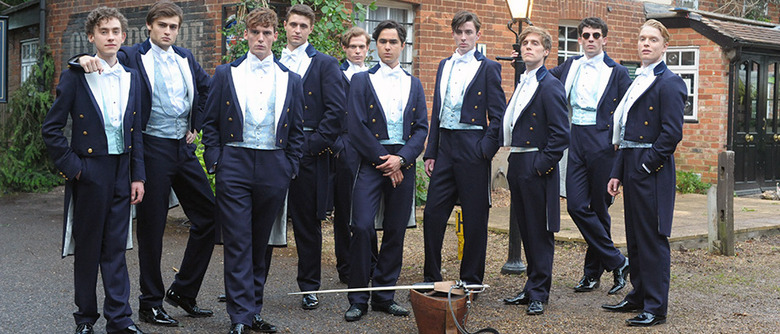 Every generation needs its preppy boy drama filled with up-and-coming faces. For the late '80s and '90s, it was Dead Poets Society. In the aughts, it was The Skulls. Now, in the twenty-teens, it might be The Riot Club.
Max Irons and Sam Claflin play the two newest members of Oxford University's most exclusive fraternity. Though the upper-crust clique lives for debauchery, things take an ugly turn when one particular evening veers out of control. Lone Scherfig (An Education, One Day) directed. Douglas Booth, Natalie Dormer, Holliday Grainger, and Jessica Brown Findlay also star. Watch The Riot Club trailer after the jump. 
IFC unveiled The Riot Club trailer on YouTube.
The trailer looks kind of cheesy, like someone took The Skulls and tried to fancy it up with British accents. But The Riot Club has actually earned some decent reviews on the festival circuit and in Europe, where it opened last year. Apparently it's a scathing, if not particularly subtle, indictment of upper-class entitlement.
The Riot Club is based on the play Posh by Laura Wade, which in turn was inspired by a real-life society at Oxford called the Bullingdon Club. Of course, "inspired by" is a pretty broad phrase and we'd imagine the Riot Club's non-fiction counterparts are none too thrilled with this unflattering portrayal.
The Riot Club hits theaters and VOD on March 27.
Filthy. Rich. Spoiled. Rotten. A band of overprivileged rich boys run wild in this savagely funny satire of money, sex and power. In the elite realm of Oxford University, no society is more exclusive than The Riot Club, the ultra-selective fraternity for Britain's most privileged sons. When he's recruited to join, down-to-earth first-year student Miles (Max Irons) is at first amused—but he's about to get a taste of upper-crust entitlement at its ugliest when a hedonistic night of drinking and drugs spins out of control. The Hunger Games' Sam Claflin co-stars in this deliciously dark look at boys behaving badly from the Oscar(R)-nominated director of An Education.