'Star Wars Rebels' Season One Finale Trailer: Who Will Fall?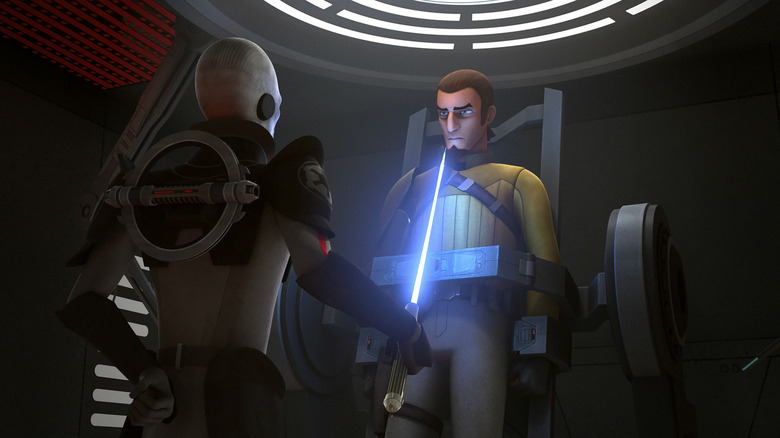 Darth Vader's appearance may be the headline when it comes to Monday's Star Wars Rebels season one finale, but there's lots more going on. A daring rescue, menacing Star Destroyers, three way lightsaber battles, and pimped-out Tie Fighters — things are about to get big. A trailer for the episode, which is called Fire Across the Galaxy, has just come online and it's really fantastic. Good enough that we decided to highlight it on its own instead of in Star Wars Bits.
Below, watch the awesome season one Star Wars Rebels finale trailer.
Here's the excellent video.
Season One Star Wars Rebels Finale trailer
And here are a few images from the episode.
Fire Across the Galaxy is the culmination of not only just the first season, it's the conclusion of a three-episode story arc that began with Call to Action and continued in Rebel Resolve. The main story points here were the introduction of Grand Moff Tarkin, who is mad that his underlings – the Inquisitor and Agent Kallus – have been unable to stop the Rebels. He sets a trap, the Rebels fall into it and everyone escapes except Kanan, the lone Jedi of the group. His budding apprentice Ezra goes against orders to obtain information to rescue Kanan, barely succeeds, and now he along with the rest of the crew are off to Mustafar to rescue their friend.
The trailer above shows exactly why Star Wars Rebels is so great. It feels like Star Wars, but always surprises and shows you new things. At the same time, it adds details to what we already know about the galaxy and introduces new characters who will likely become more and more important as things go along. Rebels is very much a Disney XD show (meaning it's aimed at kids) but it's still incredibly fun and exciting. A great bridge for fans as we wait for The Force Awakens.
Are you excited for the Star Wars Rebels finale?