'Jem And The Holograms' First Look: The Girls Take The Stage [UPDATED With Hi-Res Image And Official Synopsis]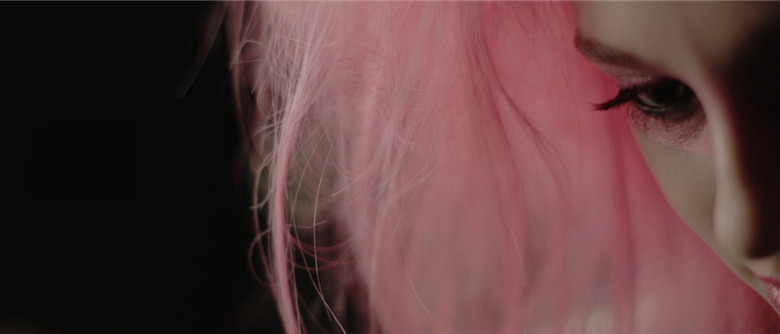 UPDATE: We've updated with a higher-res version of the Jem and the Holograms first look, plus the first official synopsis. Check them out after the jump.
The Jem and the Holograms movie came together seemingly overnight last spring, but we haven't heard much from the candy-colored rockers since then. And we still haven't, but at least now we're finally getting to see them.
The first image from Jem and the Holograms has just been revealed, featuring Aubrey Peeples as Jem, Stefanie Scott as Kimber, and Hayley Kiyoko as Aja. So does it deliver all the "glamour and glitter, fashion and fame" that we'd expect from this gang? Find out for yourself after the jump. 
Elle Magazine revealed the Jem and the Holograms first look in their March 2015 issue. io9 scanned and blew up the tiny image which explains why it's all blurry. Shana (Aurora Perrineau) is missing, but we can probably assume she's just busy on the drums.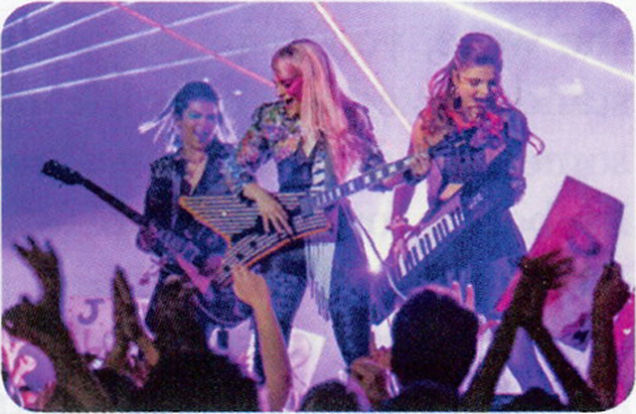 Update: Here's the hi-res version and new synopsis. Original story follows.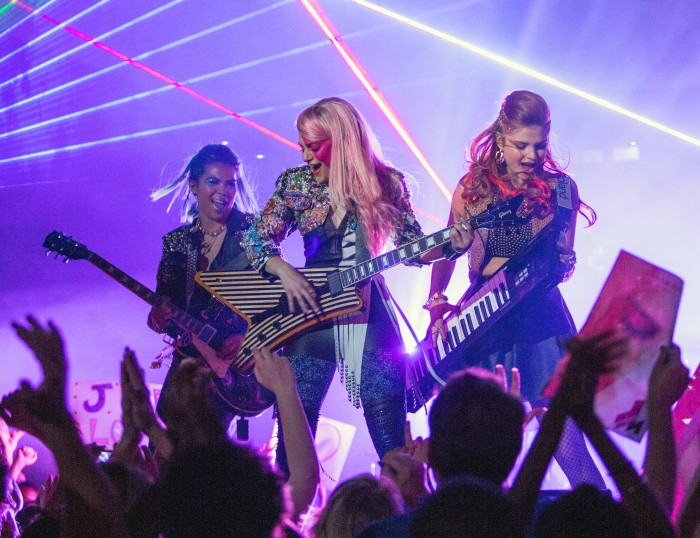 As a small-town girl catapults from underground video sensation to global superstar, she and her three sisters begin a one-in-a-million journey of discovering that some talents are too special to keep hidden. In Universal Pictures' JEM AND THE HOLOGRAMS, four aspiring musicians will take the world by storm when they see that the key to creating your own destiny lies in finding your own voice.
Let's see: Glamour, check. The girls are rocking out in front of a bunch of screaming fans, and what's more glamorous than that? Glitter, also check. It's too blurry to see any specific costume and design details, but you can't tell me a girl with pink hair, a rainbow-colored bolero jacket, and a white fringe sash-belt-loincloth thing doesn't have glitter somewhere on her person.
Fashion, sure. No one said it has to be good fashion. And fame, obviously check. Overall, on the scale between "outrageous" and "truly, truly, truly outrageous," this falls somewhere around "truly outrageous." It looks intriguing for what it is, but it's hard to get too worked up over one blurry photo.
Although the original Jem is about as '80s as they come, the new film directed by Jon M. Chu moves the action to the present day. Jem is "an orphaned teenage girl who becomes an online recording sensation. She and her sisters embark on a music-driven scavenger hunt — one that sends them on an adventure across Los Angeles in an attempt to unlock a final message left by her father."
Also starring are Ryan Guzman of Boy Next Door fame as Jem's road manager / boyfriend Rio, and Juliette Lewis and Molly Ringwald. Jem and the Holograms opens October 23.