Latest 'Daredevil' Photos Reveal New Characters Including Kingpin And Foggy Nelson [Updated]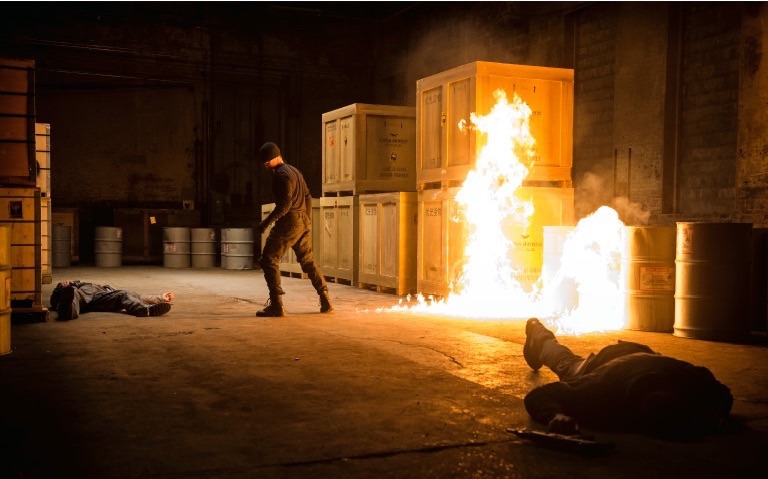 Netflix's first Marvel show, Daredevil, hits the platform on April 10. The 13 episode season marks the start of a huge crossover event that will continue with AKA Jessica Jones, go into Luke Cage, then debut Iron Fist before ending in The Defenders. We may even see a second season of Daredevil in the middle there. It all depends on the success of the first season, but up 'til now, we haven't see a lot from Daredevil.
We've seen stills. We've seen a cool teaser trailer. And now more Daredevil photos have come online, which focus less on Matt Murdock, played by Charlie Cox. These focus more on the side characters. Characters like Night Nurse, played by Rosario Dawson, Karen Page (Deborah Ann Woll), Foggy Nelson (Elden Henson) and most excitingly, a tease of Wilson Fisk, aka the Kingpin, played by Vincent D'Onofrio.
Below, see the latest Daredevil photos.
Update: There's also a new "motion poster" featuring Charlie Cox as Matt Murdock. See that below.
The new images are from the latest Empire, via Comic Book Movie
New Daredevil photos
If you look at these photos, they almost feel like a full story, don't they? Matt is in a meeting with Foggy, hears about something, investigates, gets into a fight. There's a fire. He comes home injured, gets healed up, and it's in the paper the next day. Then we end on a teaser image of the big bad. I honestly wouldn't be surprised if all of these images are from the pilot.
Mostly though, these images just get me more excited for April and the debut of this show. The whole thing feels like a blank slate. We have no idea how Marvel is going to handle this, how much these shows are going to fit into the other world, how far along Matt Murdock is going to get along during the season, and so much more. Lots of questions and on April 10, we get answers.
Are you looking forward to Daredevil?
Update: Here's the new motion poster, giving you a good look at Matt Murdock's glasses, smirk, and bloody knuckles.