See Four New 'Fantastic Four' Photos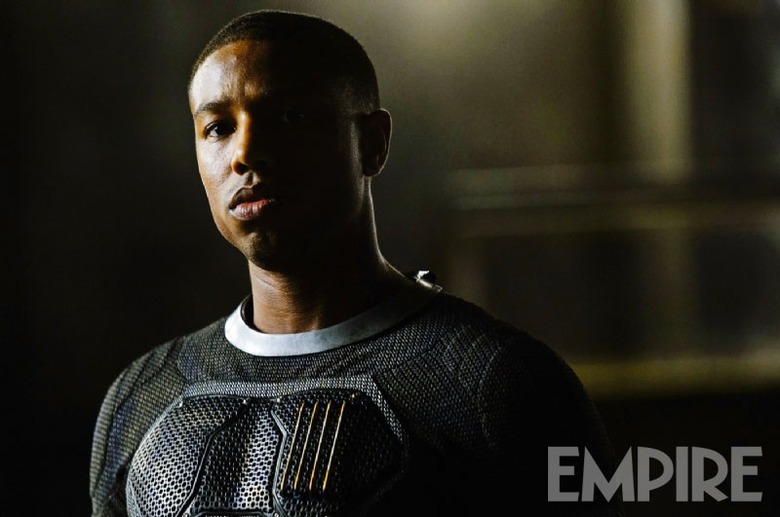 Each member of Josh Trank's Fantastic Four gets a close up in a brand new set of Fantastic Four photos. Courtesy of Empire Magazine, the images give team members Miles Teller, Kate Mara, Michael B. Jordan and Jamie Bell their own little moment in the sun. Check out the new Fantastic Four photos below.
Thanks to Empire for the images.
Fantastic Four photos
These are all new looks at the film, but there's noting particularly revealing here. They do raise a few questions though. Such as: what is Tim Blake Nelson doing in the back of the Miles Teller image? Maybe they're just looking at the lab from the trailer. Also, what or who is on the ground in Kate Mara's picture? They certainly look like humans. Plus, why would you be holding a bicycle upside down Mr. Grimm?
In the Empire article, Trank describes Fantastic Four as a "dark Amblin movie," referring to the films of Steven Spielberg. He also says this:
There's the opportunity to make something that is challenging and tragic and dramatic. The opportunity is right there in the material. We'd rather steer it in that direction as opposed to just embracing a tone that comes right off the page.
Will he succeed or won't he? It's one of the biggest questions in the pop culture landscape this year.
Directed by Josh Trank, Fantastic Four opens August 7. It stars Miles Teller as Mr. Fantastic, Kate Mara as Invisible Woman, Michael B. Jordan as Human Torch and Jamie Bell as The Thing. Their co-stars include Toby Kebbell, Reg E. Cathey and Tim Blake Nelson.
FANTASTIC FOUR, a contemporary re-imagining of Marvel's original and longest-running superhero team, centers on four young outsiders who teleport to an alternate and dangerous universe, which alters their physical form in shocking ways. Their lives irrevocably upended, the team must learn to harness their daunting new abilities and work together to save Earth from a former friend turned enemy.