'Raiders!' Trailer: Documentary About The Remake Of 'Raiders Of The Lost Ark'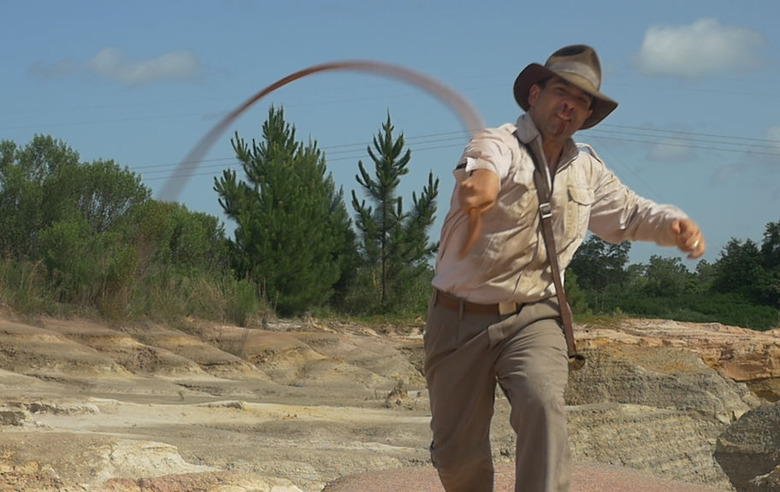 In 1982, a group of kids wanted to make a movie. Not just any movie, however. They wanted to make Raiders of the Lost Ark. That's exactly what they did. Shot for shot, Chris Strompolos and Eric Zala attempted to recreate Steven Spielberg's masterpiece. It took seven years.
They didn't quite finish at the time, but eventually fandom took over. Years later the remake began to take on a life of its own. The Internet got a hold of it, famous filmmakers championed it, a book was written and eventually, the old friends decided to shoot the one scene they couldn't do when they started – the airplane fight.
That full story is told in a new documentary called Raiders!, directed by Jeremy Coon and Tim Skousen. It'll premiere at next month's South by Southwest film festival. Now, a trailer has been released. Check out the Raiders documentary trailer below.
Entertainment Weekly debuted the trailer. Here's an embed.
Raiders Documentary Trailer
Raiders! will premiere at SXSW followed by a screening of the completed Raiders of the Lost Ark: The Adaptation. Click here for more info, tickets, etc. Here's the official description:
In 1982, two 11 year-olds in Mississippi set out to remake their favorite film: Raiders of the Lost Ark. It took seven turbulent years that tested the limits of their friendship and nearly burned down their mother's house. By the end, they had completed every scene except one... the explosive airplane scene. 30 years later, they attempt to finally realize their childhood dream by building a replica of the 75 foot "Flying Wing" plane from Raiders in a mud pit in the backwoods of Mississippi... and then blow it up! This is the story behind the making of what is known as "the greatest fan film ever made."