Arnold Schwarzenegger Says He's Back For A 'Terminator Genisys' Sequel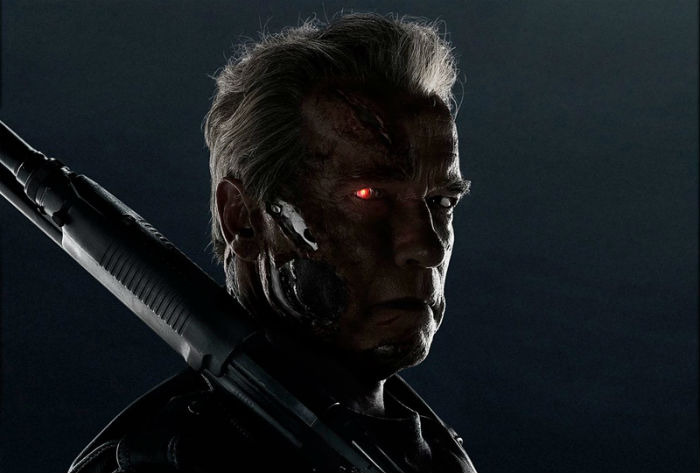 We've long heard that Terminator: Genisys is the first part in a proposed new trilogy of Terminator movies. Since the release of the first trailer, that fact has taken a back seat as fans and skeptics alike are focusing on the film at hand. However, for one particular star of the film, eyes are already turning to the sequel.
On a recent trip abroad, Arnold Schwarzenegger himself reportedly said he expects to return for a sequel to Terminator Genisys in 2016. Read the Terminator 6 update below.
Schwarzenegger spoke to the fan site The Arnold Fans about the sequel. He was asked if he'd be filming a Terminator 6 and the actor replied "Yes, of course, next year." There's a video on the site of this exchange happening, but you literally can't hear a word, so click the above link if you want to see it.
Let's get this out of the way. Genisys may have been conceived as "the first in a stand-alone trilogy," but 2009's Terminator Salvation was planned as the first film in a franchise, too. And though that film wasn't a total financial disaster (it only grossed $125 million in the US but ended up with $371 million worldwide, which probably equated to a small profit) it didn't generate enough fan excitement to kick off a new series. Schwarzenegger may very well think he's filming a sixth Terminator in 2016, but that's only happening if audiences like the fifth one when it hits on July 1.
Also, this revelation is likely a tiny bit of a spoiler. Going into this new film, you'd think the filmmakers considered finding a way to gracefully put the near 70-year-old Schwarzenegger out to pasture. He's obviously the face of the franchise and no one is surprised if he returns but having even a hint of mystery is always nice. Then again, the character died in all three of the original films, so that doesn't mean much.
Do you think a Terminator 6 will actually happen? Will we get a full trilogy this time around?