/Film LA: 'Ghostbusters,' 'Fletch,' MacGruber' And 'Big' To Screen With Special Guests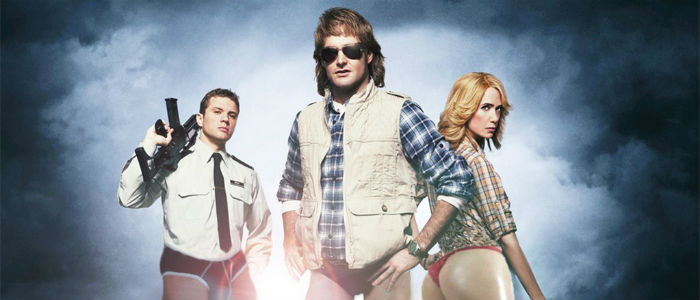 Many people who move to Los Angeles do so because of movies. If you want to star in them, you move here. If you want to make them, you move here. If you want to write about them, you move here. And as a result of that, if you love watching movies, there's really no better place to live in the world.
Case in point, the 4th Annual Wayne Federman International Film Festival. The name may not sound familiar but the event will drop jaws. It takes place at Cinefamily beginning March 5 and features screenings of Klown, Breakfast At Tiffany's, Ghostbusters, Fletch, MacGruber, Big and The Descent. Those are pretty awesome on it's own. But the real draw of this are the guests. In attendance will be Will Forte, Paul Scheer, Lauren Lapkus, Sacha Baron Cohen, Kumail Nanjiani, Doug Benson and Chris Hardwick.
Below, find out more about the Wayne Federman International Film Festival.
The festival is named after "that guy" actor Wayne Federman, who came up with the idea for a repertory film festival hosted by stand up comedians. The result is this incredible event. Here's the 2015 line up:
Thursday, March 5th, 7:30pm: Klown (presented by Sacha Baron Cohen!)
Friday, March 6th, 7:30pm: Doug Benson Movie Interruption: Breakfast At Tiffany's
Friday, March 6th, 10:30pm: Ghostbusters (presented by Paul Scheer!)
Saturday, March 7th, 7:00pm: Fletch (presented by Chris Hardwick!)
Saturday, March 7th, 10:15pm: MacGruber (presented by Will Forte!)
Sunday, March 8th, 7:30pm: Big (presented by Lauren Lapkus!)
Sunday, March 8th, 10:30pm: The Descent (presented by Kumail Nanjiani!)
Tickets for each screening are $14, or free if you are a Cinefamily member. Here's the link to all that business.
And here's the official blurb on the festival.
Wayne Federman is a "That Guy"; we are subconsciously familiar with his face, burned into the vacuum tubes of our minds like an errant screensaver. Although his name may not be as familiar, trolling the communal id will reveal his patented one-scene "Federman-and-outs" in a slew of high-profile films: Legally Blonde, 40-Year-Old Virgin, Funny People, Step Brothers, 50 First Dates — plus substantial arcs in shows like X-Files. The Larry Sanders Show and Curb Your Enthusiasm. So when Wayne came to us with the novel idea for a film festival of repertory films curated by stand-up comedians — we were interested. When Wayne explained that the comedians would not only select films that were personally inspiring and influential to them, but would also intro the film, perform, and participate in a post-screening Q&A, we did what any right-thinking movie theater should do — we said YES. NOTE: Films and performers are subject to change...and, stay tuned for surprise special guests throughout the fest!