J.J. Abrams Teases Upcoming 'Star Wars: The Force Awakens' Trailers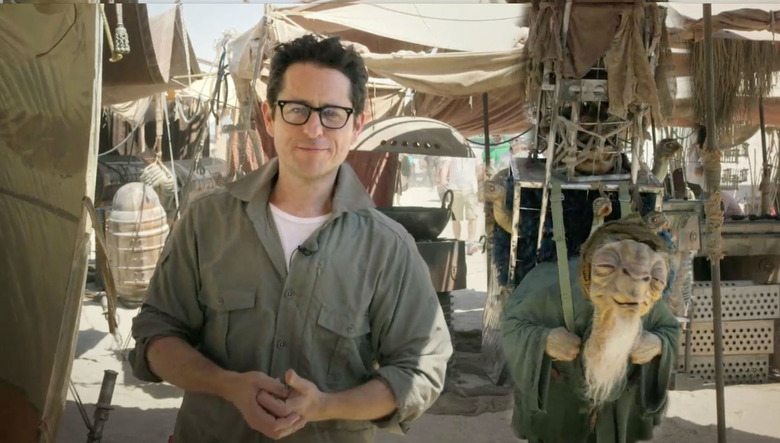 The current conversations about Star Wars: The Force Awakens are primarily concerned with two things: spoilers and trailers. Director J.J. Abrams recently admitted some of the spoilers on the Internet are true, just as some really big ones have come online. Meanwhile, everyone else has been patiently waiting for and debating when we'd see our next glimpse of footage. The safe money is on Thursday April 16, when Abrams and Lucasfilm president Kathleen Kennedy kick off Star Wars Celebration in Anaheim, CA.
In a new interview, Abrams commented on this and offered up very little information. He did say that the conversation about how and when to release information to the fans happens every day. Read the J.J. Abrams Star Wars 7 trailer news below.
Abrams talked to the IrishExaminer, via Star Wars 7 News, about the timing of a new trailer:
First of all, I'm always grateful that people would be asking. But the truth is like we haven't shown anything. We don't want to be coy but we have almost a year until the movie comes out, so we have to be smart about what we say and when. We're always having conversations about it.
There's sort of an abundance of riches with the stuff we could put out so we're just trying to make sure it's as good as it could be before we put anything out. The disaster would be to race something out for the sake of making an impact and it being not as good as people deserve.
I would say thank you for being interested. Thank you for your patience and honestly, I can't wait for you to see the film.
The release of the first teaser trailer, which was only seven quick scenes, was a reaction to the intense fan pressure put on Disney and Lucasfilm to release something. The CEO of Disney, Bob Iger, confirmed that late last year. Obviously it worked out but normally, for a film that comes out in December, we wouldn't see any marketing until probably the summer. Which is why the April reveal at Celebration, followed by public release with Avengers: Age of Ultron, still seems likely.