Sequel Bits: 'Jump Street' And 'Men In Black,' 'Spectre,' 'Furious 7'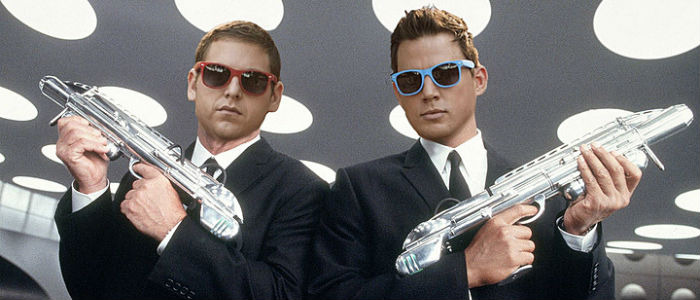 The idea to mash up the Jump Street cops and characters from Men in Black is still in play at Sony, and 21 Jump Street co-writer and co-director Chris Miller has a few things to say about it. In addition to that, this Sequel Bits features the following stories:
Pirates of the Caribbean: Dead Men Tell No Tales is the latest film to post a slate pic.
James Bond's new Aston Martin is seen in action in Spectre set videos.
And if you see the Fast/Furious movies just for the cars, we've got a list of all the cars in Furious 7.
Sorry, but Sharknado 3 is now filming.
Things are changing at Sony, as former Fox head honcho Tom Rothman is now the head of the Motion Picture Group. What that will mean for some superhero and genre films in the coming years is open to question, as Rothman wasn't exactly known for kindly shepherding those films while at Fox.
And what of really nutty ideas like the 21 Jump Street and Men in Black crossover that hacked emails revealed had been discussed? Seems like it is still on the table. Co-director Chris Miller spoke to ComingSoon about the new show Last Man on Earth, which Lord and Miller created with Will Forte, but the crossover subject was broached.
Well, it's very, very early on in this crazy fever pitch, but it's definitely a really interesting concept that makes you think. Talking about it, developing it with Jonah and Channing and Rodney and the studio, we can't just do the, "Hey, it's the same thing again" schtick because we did that already.
Note that this interview took place before Rothman was confirmed for the Sony post. So keep an eye out to see if this continues to have traction at the studio as they start to look at budget cuts and other money-saving measures.
***
 The fifth Pirates film, Pirates of the Caribbean: Dead Men Tell No Tales, has finished its first week of shooting, and one of the film's two directors tweeted a shot to commemorate the occasion.
First week in the can #PiratesoftheCaribbean pic.twitter.com/NIfC1JHq5d

— Joachim Rønning (@JoachimRonning) February 20, 2015
Dead Men Tell No Tales features Johnny Depp, Javier Bardem, Kaya Scodelario, Brenton Thwaites, Geoffrey Rush, Kevin R. McNally, Stephen Graham, and Golshifteh Farahani. It is set for release on July 7, 2017.
Thrust into an all-new adventure, a down-on-his-luck Captain Jack Sparrow finds the winds of ill-fortune blowing even more strongly when deadly ghost

pirates

led by his old nemesis, the terrifying Captain Salazar (Bardem), escape from the Devil's Triangle, determined to kill every

pirate

at sea...including him.  Captain Jack's only hope of survival lies in seeking out the legendary Trident of Poseidon, a powerful artifact that bestows upon its possessor total control over the seas.
***
Cinefilos points to a set of three fan-shot videos that represent an onlooker's perspective on the new James Bond film, Spectre. Specifically, these videos capture the film's new Aston Martin in action on roads in Rome.
***
Following up on the car coverage, a list is available that details all the cars used in Furious 7. Some of the cars are returning models, such as Dom's 1970 Dodge Charger R/T, and the 1970 Plymouth Barracuda seen in the last film. There's also the Lykan HyperSport, revealed in the Super Bowl spot and known to stats fans as the third-most expensive car ever made. In addition, we'll see an impressive Aston Martin, the Maserati Ghibli, and modified Nissan and Subaru models for Paul Walker's character.
Hit ComingSoon for the full list, with a photo breakdown. Furious 7 opens on April 3.
***
Finally — and we're sorry about this — Universal Orlando has revealed that Sharknado 3 is now filming at Universal Orlando Resort. The site says,
The third installment of the film series, which stars Ian Ziering, Tara Reid and Cassie Scerbo, will follow the storm-surge of flying sharks as it rips, bites and tears across the Eastern Seaboard with its sights (and razor sharp teeth) set on Orlando. Set to premiere this July on Syfy, fans of the film series will see their favorite on-screen characters once again fight for their lives to avoid becoming shark bait, with a few iconic Universal Orlando landmarks becoming prey as well.