Exclusive: Hear Two Tracks From The 'Kumiko The Treasure Hunter' Score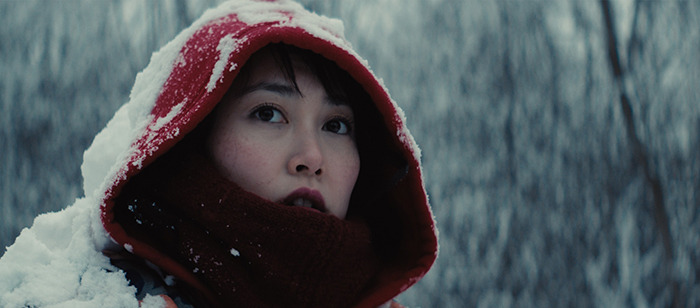 Kumiko the Treasure Hunter is an excellent, slightly strange film about a young Japanese woman who comes to the United States in search of treasure. Part of the film's success can be attributed to the score, created by The Octopus Project out of Austin, TX. This is the band's second collaboration with filmmakers Nathan and David Zellner, and the music is an essential part of creating the film's mood. (The jury at Sundance agreed, awarding it the Special Jury Award for Musical Score at the 2014 Sundance Film Festival.)
The film opens in March, and Robot High School will release the score as a digital album on March 10, 2015, with a limited-edition vinyl release set for later this year. Below, you can hear two tracks from the Kumiko score.
You can pre-order the score now at this link.
The first of these tracks, 'Library,' is a pretty lullaby that is underlined by a sense of anxiety; the second, 'Diner Walk,' is a more of a drone that is the aural equivalent of walking alone down an icy, frigid road — which makes it perfect for the film.
Kumiko the Treasure Hunter will be released theatrically via Amplify Releasing on March 18.
In this darkly comedic odyssey, Academy Award nominee Rinko Kikuchi (Babel, Pacific Rim) stars as

Kumiko

, an introverted office worker whose imagination transcends the confines of her mundane life.

Kumiko

becomes obsessed with a mysterious, battered VHS tape of the Coen Brothers' movie Fargo, which she mistakes for a documentary. She fixates on a scene where a suitcase of stolen cash is buried in the desolate, frozen landscape of North Dakota. Believing this treasure to be real,

Kumiko

leaves behind Tokyo and her beloved rabbit Bunzo to recover it – and finds herself on a dangerous adventure unlike anything she's seen in the movies.