Video: How To Make A Lego Oscar [UPDATE: Vote To Make The Lego Oscar Set A Reality]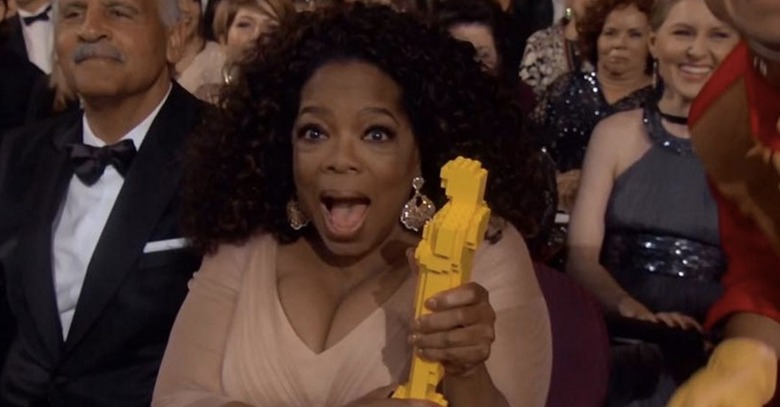 Update: The Lego Oscar is now open to votes at the Lego Ideas site.
to learn more and support the cause. Original story follows.
It's a rare honor to receive a little gold man at the Academy Awards. It's an even rarer one to receive a little gold man made out of Lego bricks. Think about it: Whereas thousands of Oscars have been handed out over the decades, including several dozen just last night, maybe a few dozen Lego Oscars have ever been given out at the ceremony, all of them last night.
But if you weren't one of the lucky few to pick up a Lego Oscar last night, don't worry – you can always make your own. A video shows how the Lego Oscars came together. Check it out after the jump.
posted a quick video of himself building plastic brick Oscars for the ceremony.
Sawaya is the same artist behind the Lego Oscar that Phil Lord tweeted out after his Lego Movie shockingly failed to secure a Best Animated Feature nomination.
It's okay. Made my own! pic.twitter.com/kgyu1GRHGR

— Phil Lord #BlackLivesMatter #StopAsianHate (@philiplord) January 15, 2015
The Lego Movie's bad luck continued last night as it didn't take home any prizes. And yet it won the Oscars ceremony with an energetic performance of the Best Original Song-nominated "Everything Is Awesome." The number culminated in the distribution of some Lego Oscars, leading to priceless reactions like this one:
Oprah is almost as excited as Eddie Redmayne was when he won his actual Academy Award. And this is a woman who has everything.
Emma Stone looked very gracious when receiving hers.
Watch Emma Stone gracefully accept her LEGO #Oscar: http://t.co/8wCfzC9WCQ http://t.co/4LCZ5WVBZN

— Vulture (@vulture) February 23, 2015
Meryl, Clint, Bradley, and Felicity look pretty stoked about theirs, too. Poor Julianne Moore had to settle for a real Oscar.
Look who made it all the way to the after party! #LegoOscar #Oscars #LEGO pic.twitter.com/QbKAtgS98v

— Nathan Sawaya (@NathanSawaya) February 23, 2015
Channing Tatum used his to photobomb Steve Carell (who also got one).
And the Oscar for Best Photobomb goes to Channing Tatum's LEGO Oscar. pic.twitter.com/TX2qHHjhJ7 (via @YahooMoviesUK)

— VODzilla.co (@VODzillaMag) February 23, 2015
Speaking with
, Sawaya revealed how the Lego Oscars came together:
The team behind The Lego Movie approached me. They wanted to do something extra special for the Academy Award performance of best song nominee 'Everything is Awesome.' They had seen my earlier version of a Lego Oscar statue, and I was happy to take on the challenge.
Each statuette consisted of 500 bricks glued together — which kind of goes against the message of The Lego Movie, but we'll let it slide. And Sawaya hopes everyone will be able to make their own someday.
"So many people have asked me about getting their own Lego Oscar that I submitted it to Lego Ideas so that everyone has the ability to get one," he revealed. "Hopefully it will be approved in the next few days and we can all start supporting it."