'Focus' Trailer: Will Smith Will Be Very Rich Or Very Dead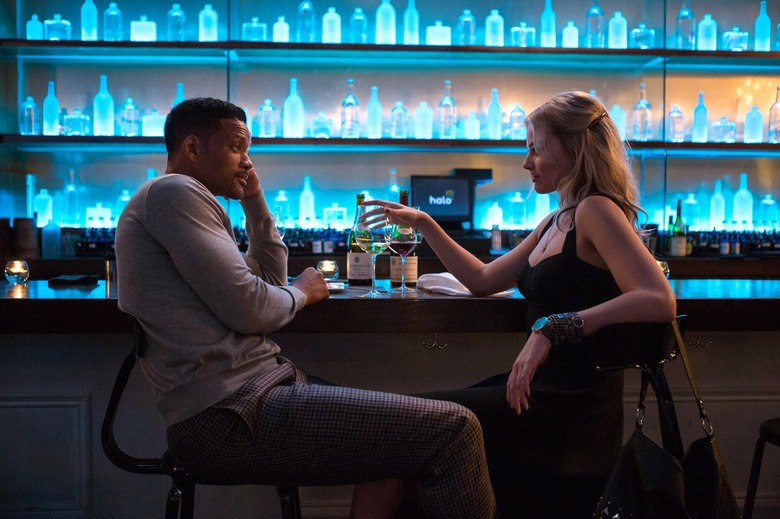 Focus is only a few days away from opening, but that's still enough time to squeeze in one last trailer. Will Smith and Margot Robbie play two con artists with a romantic history — which proves quite inconvenient when she shows up just as he's trying to pull off his biggest con yet. Flirty smiles, longing looks, and conflicted emotions ensue. Watch the latest Focus trailer after the jump.
Roadshow Films unveiled the new Focus trailer on YouTube.
The course of true love never does run smooth in Glenn Ficara and John Requa's movies. The pair made their directorial debut with I Love You Phillip Morris, about a man who cons his way in and out of prison to be with his true love, and followed that up with Crazy, Stupid, Love., which interwove several hijinks-heavy romances.
Point is, they know their way around a twisty love story, and Focus looks like a fun one. Smith and Robbie are two incredibly charismatic actors who seem to smolder together. Which is more than we can say for some love stories we've seen recently, Fifty Shades.
Interestingly, the new Focus trailer plays up the dramatic aspects of the story. Smith spends pretty much the whole time looking tormented, and the music suggests heavy drama instead of the "comedy-caper-love story" the filmmakers have previously promised.
Focus hits theaters February 27.
Will Smith stars as Nicky, a seasoned master of misdirection who becomes romantically involved with novice con artist Jess (Margot Robbie). As he's teaching her the tricks of the trade, she gets too close for comfort and he abruptly breaks it off. Three years later, the former flame—now an accomplished femme fatale—shows up in Buenos Aires in the middle of the high stakes racecar circuit. In the midst of Nicky's latest, very dangerous scheme, she throws his plans for a loop...and the consummate con man off his game.