'Settlers Of Catan' Could Become A Movie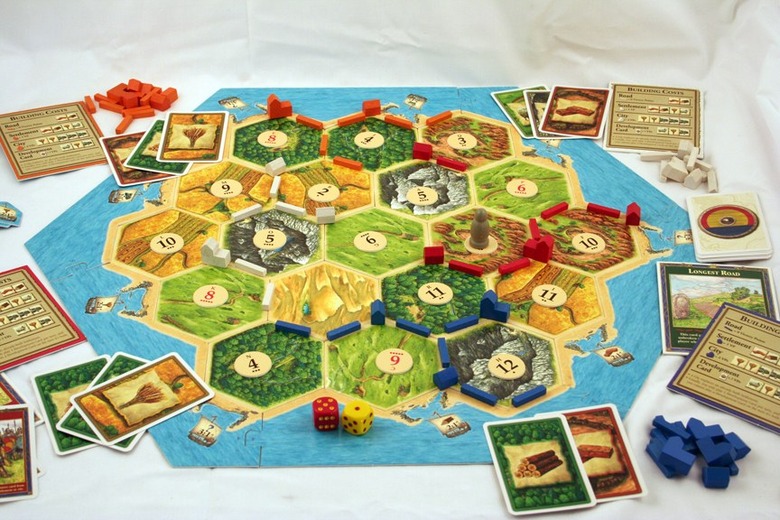 Battleship has already been turned into a big-screen feature, as has Ouija. Adaptations of Monopoly, Dungeons & Dragons, and Magic: The Gathering are currently in the works. And now Settlers of Catan could be the next tabletop game to get the Hollywood treatment. Get details on the possible Settlers of Catan movie after the jump.
Deadline reports Gail Katz (The Perfect Storm, Air Force One) has acquired the film and TV rights to Settlers of Catan. She said in a statement:
I've been wanting to see an adaptation of the game for years, ever since my Catan-obsessed college-aged kids introduced me to it. The island of Catan is a vivid, visual, exciting and timeless world with classic themes and moral challenges that resonate today. There is a tremendous opportunity to take what people love about the game and its mythology as a starting point for the narrative.
Settlers of Catan was not one of the 11 board game movies suggested by Peter last year, though he acknowledged in the comments that one could work under the right circumstances. I think a movie could be made but it would have to be a smaller art house/awards kinda thing," he wrote at the time.
Created by Klaus Teuber, Settlers of Catan was first published in Germany in 1995. It quickly proved a success, selling over 22 million copies in 30 languages across 50 countries. Several expansion packs and spinoffs have been released, along with a number of Settlers of Catan video games.
Settlers of Catan has proven immensely popular among game lovers, gaining attention from The Atlantic, The New Yorker, The Wall Street Journal, Wired, and more. As of now, though, it remains just outside of the American mainstream — it has nowhere near the name recognition of a Monopoly or a Risk.
For those who aren't familiar, Settlers of Catan has players competing to establish communities on the fictional island of Catan. Here's the official description of the game:
The women and men of your expedition build the first two settlements. Fortunately, the land is rich in natural resources. You build roads and new settlements that eventually become cities. Will you succeed in gaining supremacy on Catan? Barter trade dominates the scene. Some resources you have in abundance, other resources are scarce. Ore for wool, brick for lumber – you trade according to what is needed for your current building projects. Proceed strategically! If you found your settlements in the right places and cleverly trade your resources, then the odds will be in your favor. But your opponents are smart too.
Katz is coming off of a different board game movie of sorts, the Bobby Fischer biopic Pawn Sacrifice. As of now, there's no word on how big the Settlers of Catan movie (or TV show) might be, or when or where we'll see it.