New 'The Cobbler' Trailer: Adam Sandler's Latest Opens March 13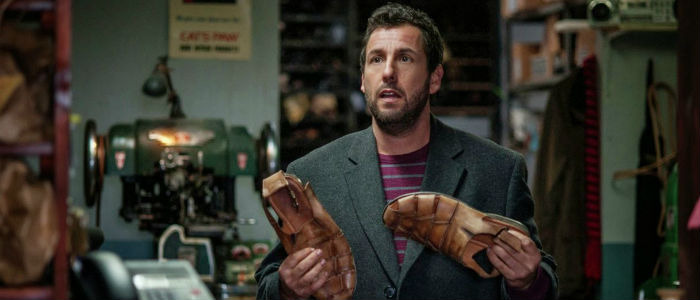 Normally, a new Adam Sandler movie would arrive with some massive fanfare. That's not particularly the case with The Cobbler, a supernatural comedy with a star-studded cast that opens March 13. Sandler plays a New York City shoe repairman who develops an ability to literally become a person by putting on their shoes. Among those people are Dan Stevens, Method Man, and there are roles for Dustin Hoffman, Ellen Barkin and Steve Buscemi.
It's a pretty great cast from a pretty great director, Thomas McCarthy, and you can watch the latest The Cobbler trailer below.
Yahoo Movies posted the latest Cobbler trailer. It's different from the International one released a few months back.
The Cobbler trailer
There definitely seems to be potential there. Potential for comedy, for heartwarming drama and awkward, entertaining situations. Yet, the fact the film has this impressive pedigree and is getting such a soft release doesn't exactly inspire confidence. Hopefully, that decision is more business based has nothing to do with quality. I'd love to fall back in love with an Adam Sandler movie.
The Cobbler comes to theaters and VOD on March 13. Here's the plot synopsis:
THE COBBLER is a warm and character-driven comedy that plays to the strengths of Adam Sandler's and Thomas McCarthy's most commercial successes. Sandler plays a 4th generation shoe-maker who discovers a magical sewing machine in his father's basement that allows him to transform into other people by wearing their shoes. Similar in theme to Tom Hanks' BIG, TRADING PLACES, and 13 GOING ON 30, THE COBBLER provides the perfect vehicle for Sandler to exhibit his endearing and selfless boyish charm, taking him on a voyage of self-discovery and learning the importance of family via the magic of "walking a mile in another man's shoes." A journey that results not only in changing himself, but the world around him.