Animated 'Guardians Of The Galaxy' Finds Its Drax And Star Lord Voice Actors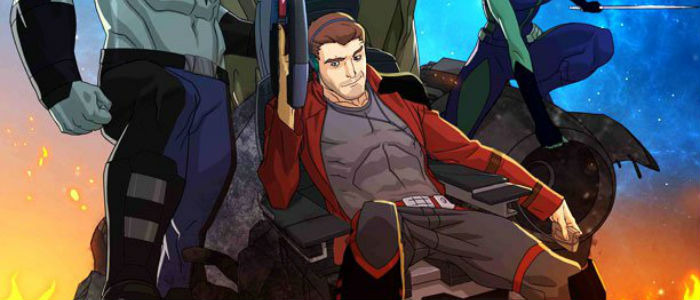 Disney's animated interpretation of Guardians of the Galaxy is currently casting up. Tuesday, Groot and Rocket were given TV voices. Now Peter Quill, aka Star-Lord, has been given life. Former Boy Meets World star Will Friedle will provide the voice for the Earthling who was kidnapped and brought out into space on the 2015 Disney XD show.
Below, read more about the Guardians of the Galaxy animated series and see Friedle's introduction.
UPDATE: David Sobolov has been announced as Drax as well. 
The Disney Channel PR Twitter announced the animated Guardians of the Galaxy casting and Star Lord voice actor by posting this video:
Friedle joins Kevin Michael Richardson, who plays Groot, and Trevor Devall, voicing Rocket Raccoon.
To be clear, this show is 100% independent of the movies. There were rumors the series would act as kind of a bridge between Guardians of the Galaxy and Guardians of the Galaxy 2 but that is definitely not true. Writer/director James Gunn made that very clear when we spoke to him a few months back:
That's not true. There's no way. It's totally separate from the Marvel Cinematic Universe and whoever said that, it pisses me off.
Even so, the animated Guardians of the Galaxy has a super solid Marvel pedigree. It's being executive produced by Marvel's Alan Fine, Joe Quesada, Dan Buckley and Jeph Loeb. There's no release date yet but it'll be on Disney XD at some point later this year.
As for Friedle, since playing the older brother on Boys Meets World, he's been doing extensive voice work for several years. He was Batman in the animated Batman Beyond films, Deadpool in the Ultimate Spider-Man series, Lion-O in the new Thundercats series, Bumblebee in Transformers: Robots in Disguise, the Blue Beetle in Batman: The Brave and the Bold, and has had an ongoing voice on the show Kim Possible. He's much more than Eric on Boy Meets World.
What do you think of the Star Lord voice actor and animated Guardians of the Galaxy show?
UPDATE: Actor David Sobolov has been added as Drax. Here's his announcement video: