Dan Aykroyd Hints A "More Conventional" 'Ghostbusters' Sequel Could Still Happen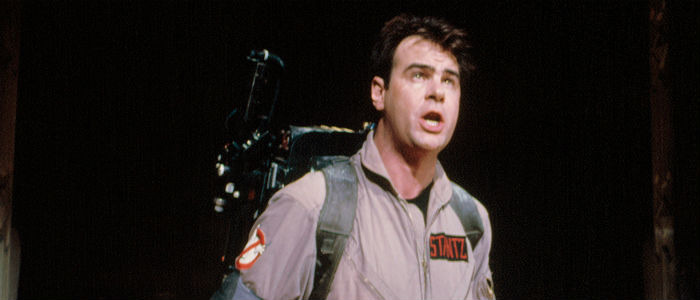 For 25 years, Ghostbusters co-creator and star Dan Aykroyd was trying to get a third movie made. Scripts were written and rewritten, creating legions of stories about the franchise future, but nothing ever came of it. Then Paul Feig came on board with a new idea: reboot the franchise with four women. Quickly, a third Ghostbusters film came into focus. It now has a cast and a 2016 release date.
Aykroyd is all for this new incarnation. He's excited about it, he loves the cast and Feig's script. But he's not convinced his original idea is still dead. In a new interview on Sirius XM, the writer/actor praised the new film but said if it's successful, some of his original ideas for a traditional sequel could still happen. Read the latest Dan Aykroyd Ghostbusters quotes below.
Aykroyd was on Unmasked with Ron Bennington on Sirius XM when he spoke about the future of the Ghostbusters. The transcriptions come from The I Bang. First up, his continued hopes to make a traditional Ghostbusters sequel:
Oh I've written... well, we have...I've written, well, there's three drafts of the old concept that exists. And we're going to be able to salvage some of it and use it. Yeah, we're gonna be able to use it some day. Let's get this one made and that will reinvigorate the franchise and then we'll go on to maybe doing a more conventional third sequel as we were planning and another idea I have for it.
But before that can happen, this new film has to be a hit, and Aykroyd definitely thinks it will be:
I can tell you, as the originator, I'm very happy with what [Feig's] done. It's very tasteful. And it needed a reworking. The thing needed a new engine. You know? It needed new exhaust. It needed new steering. And this is what we're getting.
Aykroyd says he'll be making some contributions to the "great great script by Paul Feig which we will work on and make better" but believes the casting is perfect:
The real reality in fact of the third movie with this tremendous cast of women, Melissa McCarthy, Kate McKinnon, Leslie Jones and Kristen Wiig. . . I've got three daughters, so I'm all for female empowerment....[Feig] establishes the voices beautifully in these characters. Now of course, he's got masters playing the roles for him, so this is going to really work in our favor for the third movie.
You can hear more about the film by listening to the full segment below. What do you think of these latest Dan Aykroyd Ghostbusters quotes?