VOTD: 50 Movie Spoilers Of 2014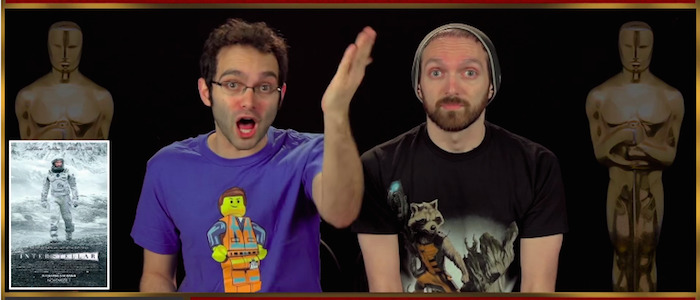 Anyone can spoil a movie. It takes skill to spoil 50 of them in less than 5 minutes. In their latest video, the Fine Bros. take on some of 2014's biggest hits, starting with all eight Best Picture nominees. Watch 50 Movie Spoilers of 2014 after the jump. 
The Fine Bros. unveiled their glorious feat on YouTube.
Here's the list, in order, of movies spoiled in the video above. You might want to hit the mute button when the brothers get to something you haven't seen. Or just hope the titles whiz by fast enough that you don't actually absorb any of the information.
Birdman, The Grand Budapest Hotel, Boyhood, Whiplash, The Theory of Everything, Selma, American Sniper, The Imitation Game, Exodus: Gods And Kings, Noah, The Amazing Spider-Man 2, Captain America: Winter Soldier, X-Men: Days of Future Past, Guardians of the Galaxy, Transformers: Age of Extinction, Teenage Mutant Ninja Turtles, Big Hero 6, Godzilla, The Fault in Our Stars, Dumb and Dumber To, Gone Girl, The Giver, The Hunger Games: Mockingjay Part 1, Divergent, The Maze Runner, A Million Ways to Die in the West, Annie, Into the Woods, Lucy, Edge of Tomorrow, Interstellar, How To Train Your Dragon 2, Maleficent, Lego Movie, Foxcatcher, The Purge: Anarchy, The Interview, 22 Jump Street, Inherent Vice, Night Crawler, Ida, Leviathan, Night at the Museum: Secret of the Tomb, Muppets Most Wanted, Neighbors, Unbroken, Fury, Dawn of the Planet of the Apes, 300 Rise of an Empire, The Hobbit: The Battle of Five Armies.
The five-minute limit becomes a tad less impressive when you remember that they've previously spoiled 50 Christmas movies in 3 minutes and 50 2009 movies in 4 minutes. Heck, seven years ago they spoiled 100 movies in less than 5 minutes. 50 movies in 5 minutes is practically languid for them.
Then again, this year is kind of a complicated bunch. I don't think I could explain the ending of Interstellar in five minutes, let alone Interstellar plus 49 more films. Okay, I'm back to being impressed.