Watch: Google's Eric Schmidt Makes A Dumb Mistake In 'Dumb And Dumber To' Deleted Scene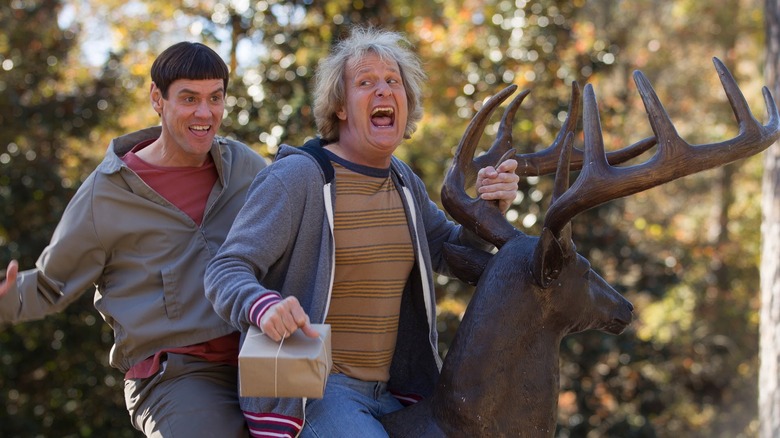 Have you heard? Google is a great search engine. You should try it. Lord knows Eric Schmidt wishes he had in this deleted scene from Dumb and Dumber To.
In a cameo as himself, the Google executive chairman makes the mistake of trying to get into the KEN conference (the movie's version of the TED conference) without a ticket. The resulting verbal beatdown from the ticket-taker makes Schmidt look quite the fool. At least he can take comfort in knowing he's still not as dumb as the two morons in line behind him. Watch the Eric Schmidt Dumb and Dumber To deleted scene after the jump. 
Mashable posted the clip, which is included as an extra on the Dumb and Dumber To DVD / Blu-ray. Schmidt shot his cameo back in 2013, but it didn't make the final theatrical cut of the movie.
The scene is inessential — we can see why the filmmakers decided they didn't need to include it — but it's funny even out of context. Schmidt's willingness to poke fun at himself is endearing, and that unimpressed ticket-taker is amazing. If there's a Dumb and Dumber 3, I hope it's just two hours of watching her ripping into other idiots who dare attempt to get in without a ticket.
As dumb as its heroes are, Dumb and Dumber To itself has turned out to be a smart move on Universal's part. The film quadrupled its $40 million budget at the global box office, with a total gross of $169 million. Not bad for a film that hit all manner of roadblocks on its way to the screen, even getting dropped by original studio Warner Bros. at one point.
No surprise, then, that the team behind Dumb and Dumber To aren't ruling out a Dumb and Dumber 3. "I could see doing another," said co-director Peter Farrelly last year. Star Jeff Daniels sounded game as well. "I love the Farrellys, I love Jim [Carrey]," he said. "There's great value in making people laugh 20 years ago and I hope now. And [if] you get to do it again, you get to do it again."
Dumb and Dumber To hits DVD and Blu-ray today, February 17.