'Spearhunter' Trailer: Are These Guys The Ultimate Hunters?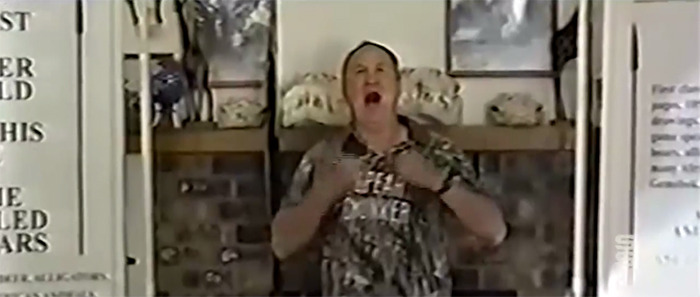 One of the chief appeals of documentary film is the ability any given film has to pull you into a subculture that would otherwise be off-limits. Here's Spearhunter, which follows some people you probably wouldn't even guess existed: a set of men in Alabama who hunt wild boar with spears. In particular it investigates one guy who proclaimed himself the greatest spear hunter, and created a museum dedicated to the art of spear hunting. (And also to himself.)
The doc will premiere in March at SXSW, and this Spearhunter trailer is very entertaining and more than sufficient to arouse my curiosity about the story the film plans to tell.
The film comes from directors Luke Poling, who co-directed the documentary Plimpton! Starring George Plimpton As Himself, and Adam Roffman, who produced Plimpton!, was Program Director of the Independent Film Festival Boston from 2003-2013 and who is an active props man and set decorator in Boston, working on films such as American Hustle, Gone Baby Gone, The Town, Captain Philips, and The Equalizer.
Spearhunter was shot in Summerdale, Alabama in April 2014. Trailer via SXSW.
Deep in the wilds of rural Alabama, a spear-hunter proclaims himself the world's greatest and erects a museum dedicated to his own obsession. In this atmospheric and darkly funny documentary, an offbeat cast of lovers, acolytes, and critics of the megalomaniacal spear-hunter 
remember his distinctive tactics both for killing and for leaving a legacy.