Gallery: Check Out Awesome Art Based On 'Chappie'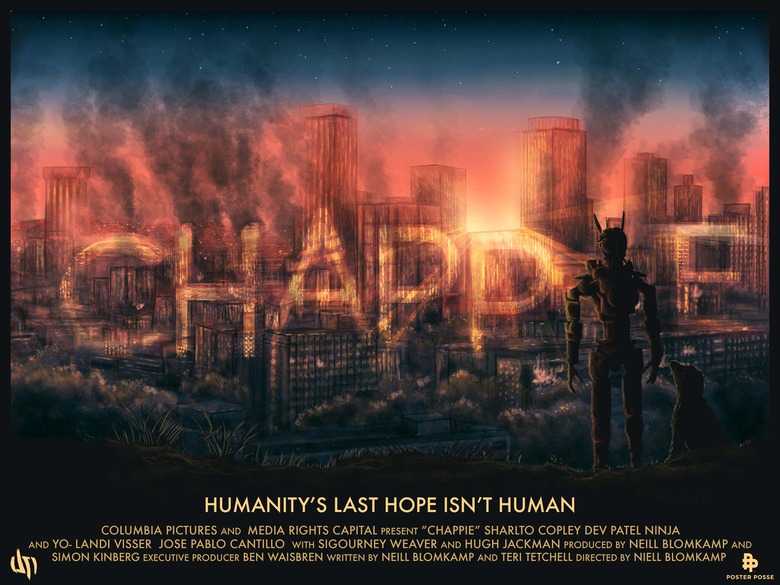 One of the biggest films of the spring may be the latest sci-fi creator from Neill Blomkamp, Chappie. Starring Sharlto Copley, Hugh Jackman, Dev Patel and Sigourney Weaver, the film tells the story of an artificially intelligent robot which finds a place in human society. Buzz has been pretty solid on the film, which promises to combine action, drama and intelligence in a way that could only come from the mind of the director of District 9.
When a movie features robots, explosions, rap stars and giant mechs, you can be sure the Poster Posse is going to take notice. The online art collective has been making cool representations for several recent blockbusters: Guardians of the Galaxy, Interstellar, Big Hero 6, etc. and now they're tackling Chappie. Check out the new Chappie posters below.
Here's the first batch of Poster Posse Chappie posters. There are more coming soon, which we'll add.
Check back soon for more Chappie Poster Posse posters.
Directed by Neill Blomkamp, Chappie stars Sharlto Copley, Dev Patel, Ninja and Yo-Landi Vi$$er, Jose Pablo Cantillo, Sigourney Weaver and Hugh Jackman. It opens March 6.
From the director of District 9 and Elysium comes Chappie, starring Sharlto Copley, and Dev Patel with Sigourney Weaver and Hugh Jackman. Every child comes into the world full of promise, and none more so than Chappie: he is gifted, special, a prodigy. Like any child, Chappie will come under the influence of his surroundings—some good, some bad—and he will rely on his heart and soul to find his way in the world and become his own man. But there's one thing that makes Chappie different from any one else: he is a robot. The first robot with the ability to think and feel for himself. That's a dangerous idea—and it's a challenge that will pit Chappie against powerful, destructive forces that would ensure that he is the last of his kind.