'House Of Cards' Season 3 Trailer #2: "What Are We Doing This For?"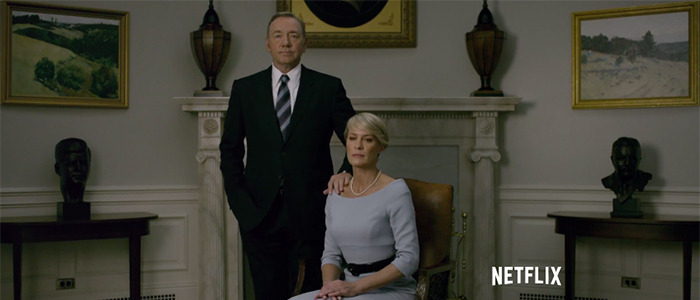 Netflix aired a second House of Cards Season 3 trailer during The Oscars on Sunday night.
President Underwood fights to secure his legacy. Claire wants more than being First Lady. The biggest threat they face is contending with each other.
You can watch the new House of Cards Season 3 trailer after the jump.
House of Cards Season 3 Trailer 2
Russ Fischer's previous story from February 16th 2015 follows:
Last week those waiting for the third season of House of Cards on Netflix were treated to a nice surprise when ten of the season's thirteen episodes went live on Netflix. The surprise turned rude, however, when the episodes were pulled after about a half hour.
Granted, it's not like we've got long to wait, as the new episodes go live (for real) at the end of February. But here's a new House of Cards S3 trailer to help you wait the last two weeks, and it suggests that there is some real tension between Claire Underwood (Robin Wright) and Frank Underwood (Kevin Spacey).
At least the official PR mouthpiece for the show took the leak in stride.
This is Washington. There's always a leak. All 13 episodes will launch February 27.

— House of Cards (@HouseofCards) February 11, 2015
I love how the "I think you're reading too much into something" line sounds when it comes from Claire.
The ten-episode leak came complete with ten synopsis reveals for that section of the season, and a quick perusal of those (should you be interested) might give some clue as to what the tension in that trailer is about, and how it will flower during this new chapter set. Personally, I'm going to wait for the show; I always try to avoid reading those recaps even when the show is ready to watch.
House of Cards Season 3 goes live on February 27. Trailer via Netflix. The show's cynicism and bleak humor is even seen today on Twitter, in an acknowledgement of Presidents Day.
And not a single vote cast. #HappyPresidentsDay pic.twitter.com/prtlYYnryI

— House of Cards (@HouseofCards) February 16, 2015