Cool Stuff: Lego's Massive Ultimate Collectors Series Star Wars Tie Fighter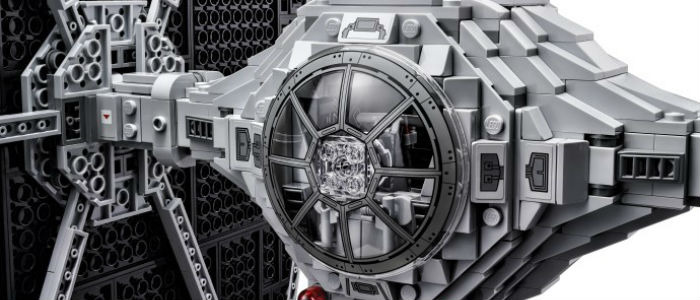 For fans who find themselves in the cross section between Star Wars and Lego, an Ultimate Collectors Series announcement is an event. One or twice a year Lego reveals a massive set, aimed at adult collectors, with the kind of detail worthy of the Jedi. The most recent one was the Boba Fett Slave 1. Before that? The Sandcrawler. Saturday, Lego announced the Ultimate Collector's Series Tie Fighter, a 1685 piece behemoth of a set that'll be out in May. Below, read more about the new Star Wars Lego Tie Fighter, see photos and a video.
Here are photos of the Lego Ultimate Collector's Series Tie Fighter via The Brick Fan.
Star Wars UCS Lego Tie Fighter
And the specs:
75095 TIE Fighter, 1,685 piecesUS $199.99 – CA $229.99 – DE 199.99€ – UK £169.99 – DK 1799.00 DKKPresenting the Ultimate Collector Series TIE Fighter – the iconic Imperial starfighter!We proudly present the Ultimate Collector Series LEGO Star Wars TIE Fighter. As featured in many of the action-packed Star Wars battle scenes, including the decisive battle that led to the destruction of the first Death Star, this large-scale LEGO-brick rendition of the classic Imperial starfighter has intricate detailing, as well as an opening top hatch and an exclusive TIE Fighter Pilot minifigure with a blaster pistol. And when you want to keep it safe from Rebel attack, mount the model on the display stand and keep yourself updated with all the key facts and figures on the included fact plaque. The Ultimate Collector Series TIE Fighter is the perfect addition to your Star Wars collection!Includes a TIE Fighter Pilot minifigure with a blaster pistolFeatures an opening top hatchIncludes a display stand and informative fact plaqueThe perfect flagship model for fans of Star Wars and LEGO brick buildingCollect one of the most iconic starships in the galaxy!TIE Fighter measures 18.5" (47cm) high, 12" (30.6cm) long and 12.2" (31cm) wide
And then the video announcement.
So what's the next Ultimate Collector's Series set? Rumor has it it's a Hoth Base, but that's unconfirmed. We'll see.