'Crimson Peak' Trailer: Ghosts Are Real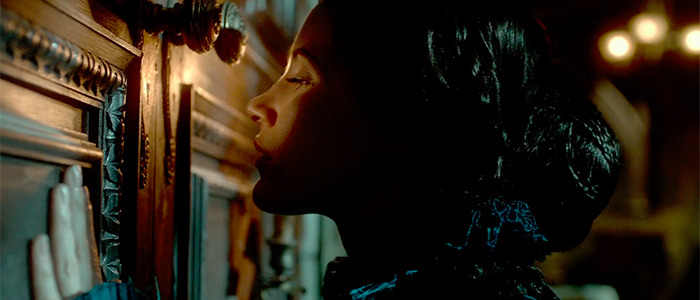 Here's the first trailer for Guillermo del Toro's Crimson Peak, which stars Jessica Chastain, Tom Hiddleston, Mia Wasikowska, and Charlie Hunnam in a gothic haunted house movie, but probably one that has some big-budget set pieces to provide scares and strangeness.
A young woman (Wasikowska) is romanced by a man (Hiddleston) whose sister (Chastain) seems to have secrets, and maybe some real issues related to their cloistered upbringing in a giant old house. And judging by the way this trailer ends, there are seriously freaky reasons for their problems. Check out the Crimson Peak trailer below, which is powered by a quiet but ominous cover of Nick Cave's 'Red Right Hand.'
That's a great teaser, especially as it puts the character setup and tone over effects-based stuff. I'd watch the main trio of Hiddleston, Chastain and Wasikowska play just about any material, and knowing that they'll have to deal with ghosts (or that they are ghosts?) only adds to the fun. And what an amazing-looking movie; I can't wait to see more of these sets, and based on what we do see of the effects here, we might be in for some deliriously fun supernatural sights.
Crimson Peak opens on October 16. Trailer via Apple.
Legendary Pictures' CRIMSON PEAK, a co-production with Universal Pictures, is a haunting gothic horror story directed by the master of dark fairy tales, Guillermo del Toro (Pan's Labyrinth, Hellboy series, Pacific Rim), written by del Toro and Matthew Robbins and starring Mia Wasikowska, Jessica Chastain, Tom Hiddleston and Charlie Hunnam. In the aftermath of a family tragedy, an aspiring author is torn between love for her childhood friend and the temptation of a mysterious outsider. Trying to escape the ghosts of her past, she is swept away to a house that breathes, bleeds...and remembers. Thomas Tull, Jon Jashni, del Toro and Callum Greene produce, and Jillian Share executive produces.