James Franco Starring In Adaptation Of Stephen King's '11/22/63' From JJ Abrams' Bad Robot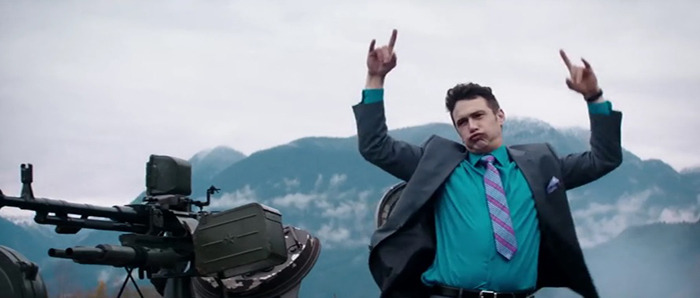 I love this image of James Franco, but he'll probably look a bit more dignified when he travels back in time to stop the killing of John F. Kennedy. The pic above is from the last time the actor was involved in an assassination story, when he was the one potentially doing the killing. Now he's changing sides. Franco is now set to star in the 11/22/63 TV series, which Hulu will air as an adaptation of the novel by Stephen King, produced by J.J. Abrams' company Bad Robot.
In the 2011 novel by King, a Maine-based high school teacher is shown a time portal hidden in the back of a diner. The man who shows him this portal — which always sends anyone who travels through it back to 1958 — had planned to use it to prevent the assassination of JFK.
But that first guy's poor health made the job impossible, and so he passes the responsibility on to the teacher. But there are problems with the plan, not least with the fact that time doesn't really want to be altered.
The Wrap reports Franco's starring gig as the teacher Jake Epping, and says he's a producer on the nine-hour "event series."
The 11/22/63 TV series will air on Hulu, but as a production is based at J.J. Abrams' Bad Robot Productions. Bridget Carpenter (The Red Road, Friday Night Lights"), who will write and executive produce the series.